SPACES at the 2022 Outsider Art Fair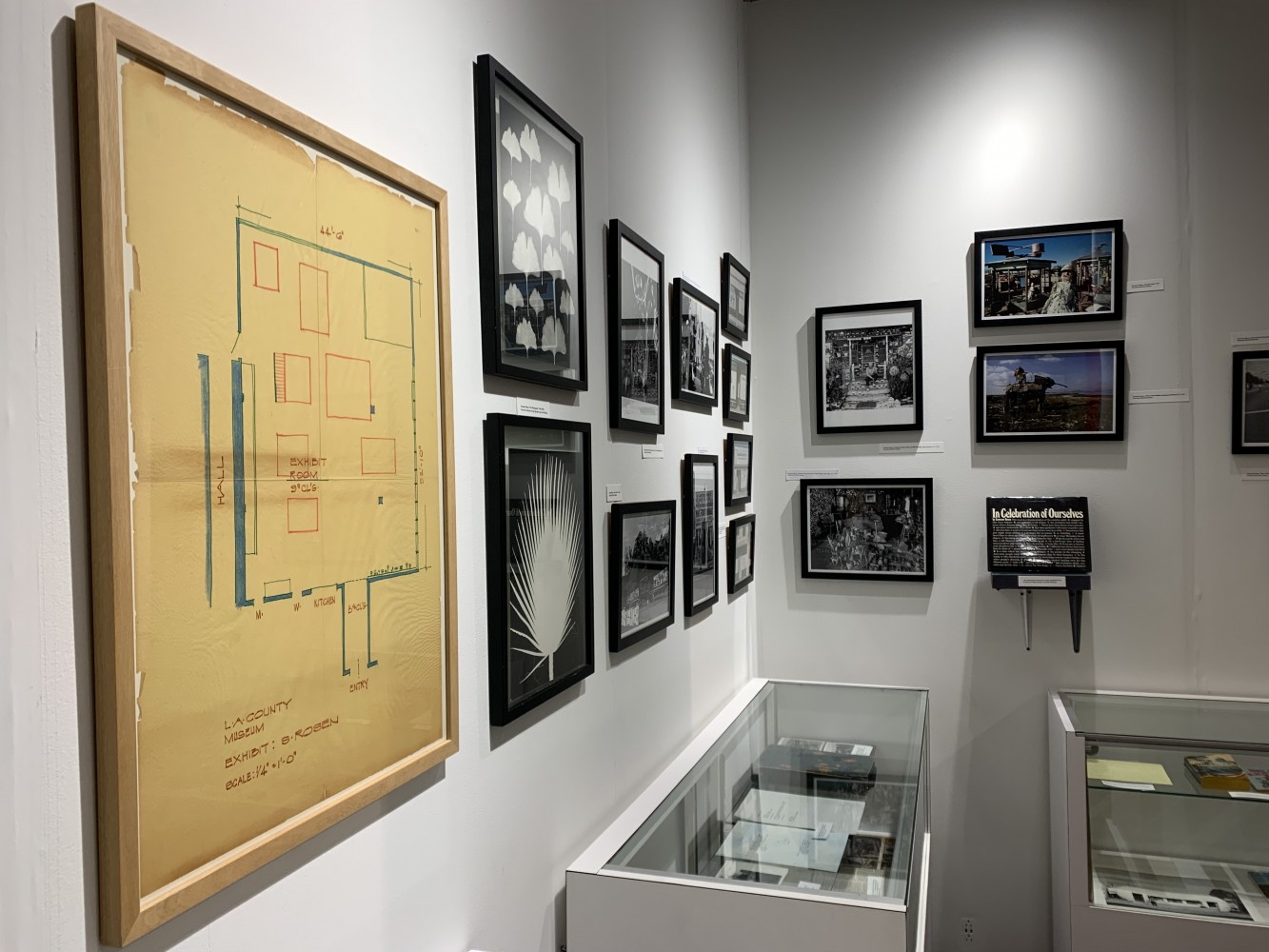 Now that the dust has settled, we're happy to share more about the exhibition of Seymour Rosen's work that was presented at the 2022 Outsider Art Fair in New York in March – "Here We Are Now: The Ecology of Seymour Rosen and SPACES."
The idea for this project first took root in early 2021 when I reached out to Gigi Spratley, artist and longtime friend of SPACES Founder Seymour Rosen, to learn more about Rosen and his work. Gigi first met Seymour at a Macintosh computer users' group in 1985. Her partner at the time began meeting Seymour at his home to assist with the SPACES newsletter, and Gigi would tag along. At each visit, Seymour provided a nontraditional arts education for Gigi, giving her plenty of books to read and ideas to consider each time she left his Los Angeles apartment.
During our conversation, Gigi and I agreed that Seymour's work – including and in addition to his documentation of art environments – is deserving of more contextualization and recognition. She and her partner Jack Waltrip (also a dear friend of Seymour's) decided to honor their late friend's life and creative work by producing an exhibition about his overall creative practice, including his photography, curatorial projects, and SPACES. They enlisted their friend Brian Chidester, also a big fan of Seymour's, to co-curate the show. When Gigi and Brian serendipitously met at a gallery in New York several years ago, she described to him a photographer in Los Angeles who'd greatly impacted her work. Brian said he sounded quite similar to one of his own inspirations. They quickly realized they were both talking about Seymour, whose book In Celebration of Ourselves Brian had discovered at a sidewalk sale many years earlier in LA.
Brian and I collaborated on the curatorial work; he focused on Seymour's early career and the cultural context of mid-century LA in which his vision was honed, and I examined how his interest in art environments developed in tandem with his other incredibly varied pursuits, eventually culminating in SPACES in 1978. Gigi and Jack graciously managed all of the logistical heavy lifting and produced a beautiful accompanying catalog with essays by Kristine McKenna, Tom Patterson, Roger Manley, Brian, and me. I'm so grateful for this collaboration and for the opportunity to share Seymour's work and a few of the incredible treasures we have here at SPACES. There continues to be so much to discover!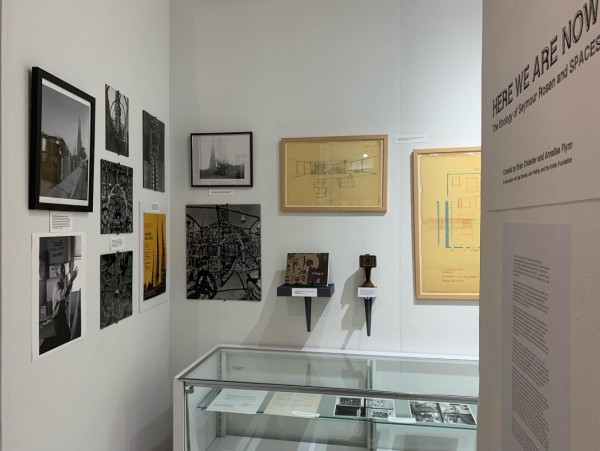 Here We Are Now: The Ecology of Seymour Rosen and SPACES
The mid-to-late-20th century curator/photographer/preservationist Seymour Rosen is by today's standards a forgotten figure in the history of Outsider and Folk Art. "Here We Are Now: The Ecology of Seymour Rosen and SPACES," an exhibition curated by Brian Chidester and Annalise Flynn for the 2022 Outsider Art Fair, seeks to change that.
Rosen's star first rose in the late 1950s when he became an assistant to the architectural photographer Marvin Rand and was active in the campaign to save the Watts Towers in Los Angeles from being demolished. Once successful, Rosen was given a solo show at the L.A. County Museum of Art (LACMA) in which to exhibit his photographs of the Towers, they being instrumental in the preservation effort.
In 1966, his cosmology expanded greatly with a follow-up exhibition at LACMA entitled "I Am Alive." Here Rosen combined documentary photos of the Watts Towers with functional objects from everyday life, natural history specimens, experimental photograms, and artifacts from the environments themselves. More installation, in fact, than exhibition, he treated "I Am Alive" as an opportunity to break from curatorial tradition and by extension show that creativity was ubiquitous rather than the province of a specialized few.
By the early seventies, Rosen would apply his aesthetic eye to an ever-expanding field of art environments and vernacular subjects around the state of California, which allowed them to be seen as unique and beautiful. These included: shaped architecture, neon signage, mural art and graffiti, decorated vehicles, pageants, swap meets, parades, and many others. It culminated in the 1976 exhibition (and subsequent book) held at the San Francisco Museum of Modern Art entitled "In Celebration of Ourselves."
Thereafter Rosen incorporated SPACES–Saving and Preserving Arts and Cultural Environments—as a repository of archival documentation related to artist-built environments, not just in California, but across the U.S. and around the globe. He also influenced a wave of popular books and exhibitions in the 1990s and 2000s on vernacular architecture and Californiana by new historians such as Jim Heimann, Alan Hess, and Sven Kirsten. Up until his death in 2006, he was actively committed to advocating for the preservation of artist-built environments, and in encouraging folklorists, art historians, critics, and others to join forces in "coordinated efforts of scholarship and preservation" through his SPACES newsletter and various personal correspondences. The work of SPACES continues, and the Archives are now a preservation project of the Kohler Foundation in Kohler, Wis.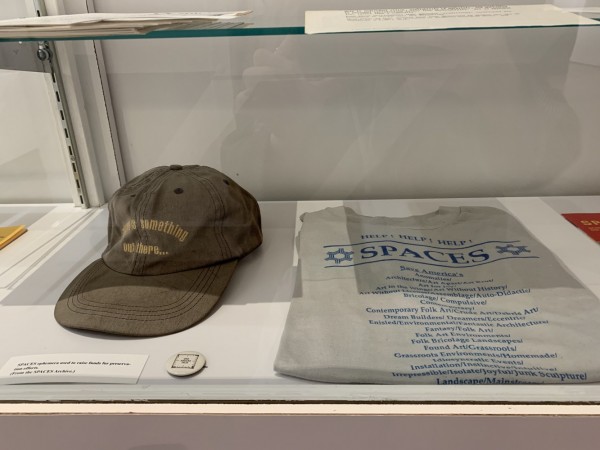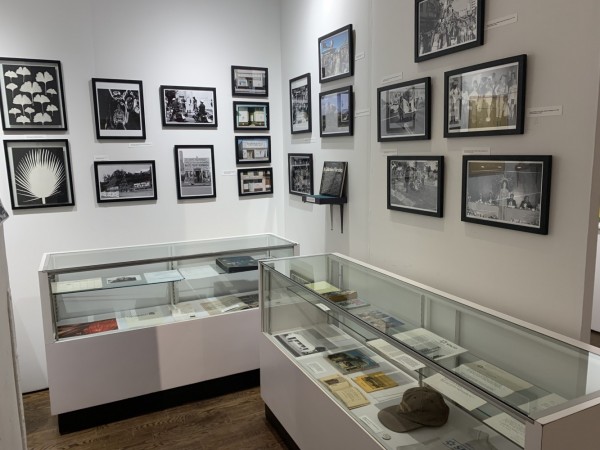 "Here We Are Now" is an exhibition that rekindles Rosen's exceptional production as an artist and also reflects his work through the ecology of subjects, objects, and influences which populated his pioneering curatorial efforts. It is produced by Gigi Spratley and Jack Waltrip: artists and friends of Rosen during the last two decades of his life.