Chris Vo's Flower House in Cleveland has been destroyed against his will!
One year ago, Chris Vo, creator of Cleveland's spectacular Flower House, was promised a reality television show about his elaborately decorated art environment by a national producer. The promise involved a "free facelift" for the house, and, as Vo thought he was being treated in good faith, he and his partner signed an Access and Work Scope Agreement, which is what they were told was a standard contract for filming, allowing the crews to enter the home. His partner even thought it might be a chance, down the road, to get his own show about dancing.
The actual "reality," however, was that while Vo and his partner were housed by the network in a local hotel, the house was stripped of all of its decorations, and the lawn's manicured tree and shrubs were uprooted and hauled away, along with statuary, ornaments, the outdoor grill, and garden structures. The Reality TV producer was apparently encouraged by an individual who had been in the process of selling his father's rental home across the street, and was further supported by "helpful" neighbors who were supposedly placing the ornaments into storage boxes; while it had been promised that his property would be only temporarily removed and later would all be returned, most of it ended up in a dumpster, stolen, or destroyed. Following the stripping of the Flower House, the aforementioned individual sold his father's property, previously valued at $90,000, for $130,000.
To make matters worse, instead of a program celebrating the Flower House, it turned out to be a show about flipping houses. When they saw what was happening to the property, the couple wanted to cancel and move back into the house, despite its drastic change. In fact, only three days into filming, Vo pleaded with the producer, "Please, can I have my house back!" but he was told "It's just a TV show, just do what I say and you'll get your house back." Vo and his partner were also told they had to do what they were told or they would be held responsible for all of the production costs of the show.
After the destruction of his years of work, Vo was inconsolable and the couple split up. Now, one year later, despite the ongoing emotional pain over what was done to him, his home, and his relationship, Vo has decided to try to resurrect the Flower House.
The Reality TV producer and the cable network aired the show on March 27, 2018 under the title "Make My Neighbor Move," using footage of Vo and his partner, although they had refused to sign an Appearance Release permitting them to do so. Angry and heartbroken, Vo asked for monetary reimbursement for repairs to the house and for the theft and destruction of his property. Offers were made by the network, but their highest offer did not even come close to covering the repair costs, let alone reimburse Vo for the loss of his personal property. The producer and others at the cable network have broken off communications with Vo.
A grass-roots GoFundMe account has been created to help replace the lights and other decorations and retain legal assistance in an effort to hold accountable those who participated in the destruction of the Flower House. For more information and to make a donation, go to
https://www.gofundme.com/7hvh9g-flower-house-resurrection
Jo Farb Hernández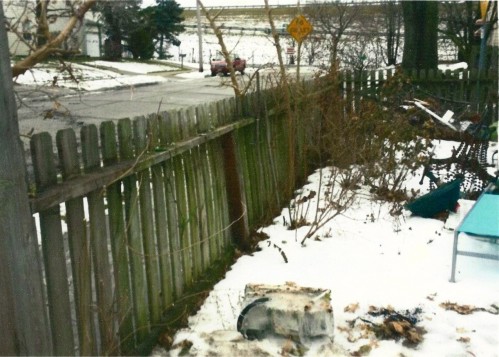 The Flower House at night, May 2016, Fred Scruton.