Build/Live/Work: In Conversation with Elizabeth Driscoll Smith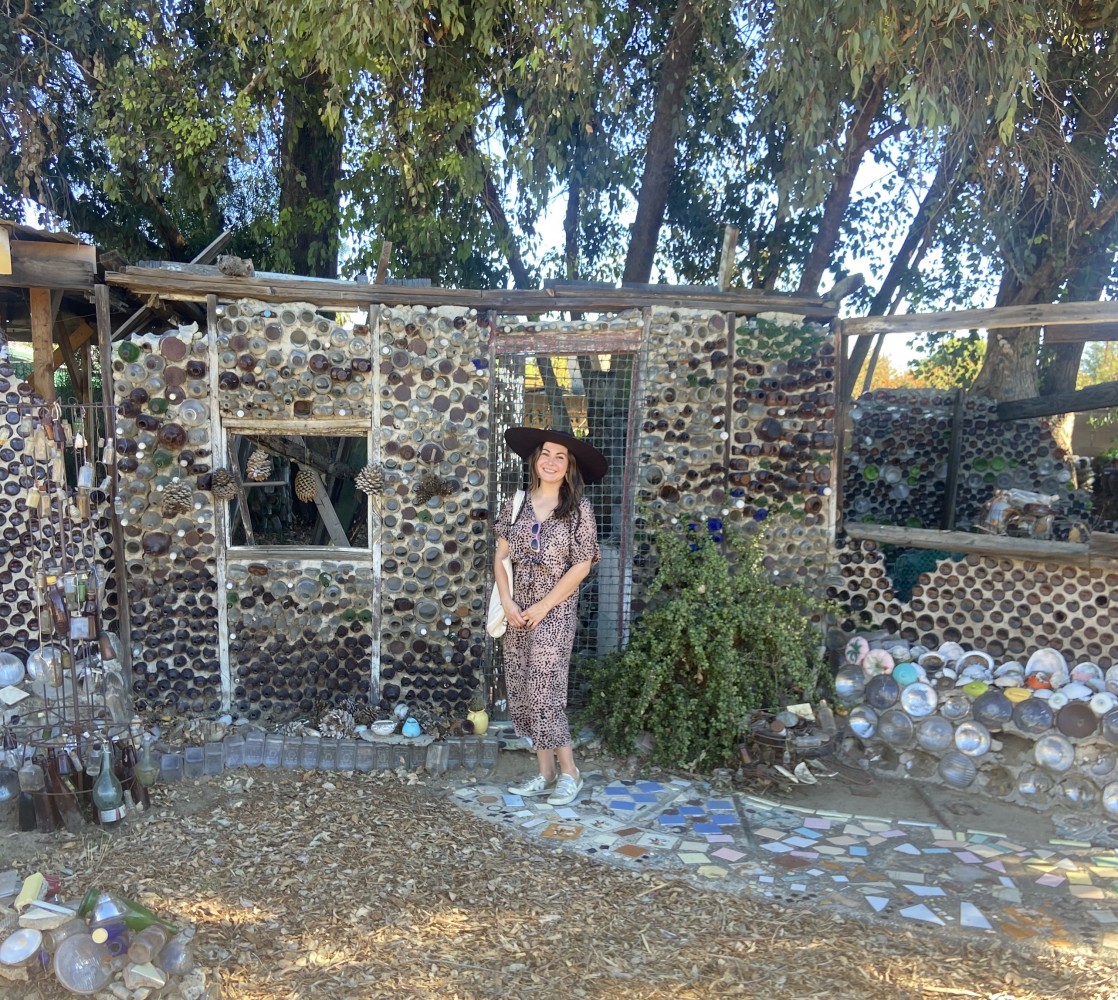 Elizabeth D. Smith is a Ph.D. Candidate in the History of Art & Architecture Department at the University of California Santa Barbara, specializing in American art and material culture of the twentieth century. Her dissertation, "Build/Live/Work: Artist-Built Environments and the Expanded Vernacular in the Twentieth Century," examines the ways artist-environment builders responded to new forms of mobility and movement in the postwar era. In 2021, she visited the SPACES Archives to view source materials related to her dissertation.
Smith's research reconsiders the environments of Sam Doyle (1906-1985), Tressa "Grandma" Prisbrey (1896-1988), Ulysses Davis (1913-1990), and Roger Brown (1941-1997) alongside histories of American regionalism and the emergence of the Interstate Highway System, the rise of amateur craft, and placemaking strategies of the Civil Rights Movement and Second Wave Feminism. Elizabeth is a 2022-2023 Predoctoral Fellow at the Smithsonian American Art Museum.
How did you first become introduced to/ interested in the world of art environments? What made you want to pursue environments as a research topic? What excites you about this field?
My first introduction to art environments was through Miranda Lash, who hired me as a research assistant for the exhibition Southern Accent: Seeking the American South in Contemporary Art (which toured the Speed Art Museum in Kentucky and the Nasher Museum of Art at Duke University in 2016-17). Working on Southern Accent exposed me to a world of artistic production beyond New York—what is historically considered modernism's "hotspot" in the United States—or the eastern seaboard in general. It included the work of Howard Finster, Tom Rankin's photograph of W.C. Rice's Cross Garden in Prattville, Alabama, and two appearances of Vollis Simpson's North Carolina Whirligig Park—in R.E.M.'s 1984 music video Left of Reckoning and Burk Uzzle's photograph Acid Park (2009).
In a broader sense, I began thinking about art environments within the context of postwar art-historical terminologies of place, time, and site—like "site specificity" or "institutional critique." I think our understanding of art + activism has been flattened by these terms, which often champion conceptual work over the handmade. Artists who constructed environments outside recognized artistic centers, predominately in rural areas of the U.S., also challenged conventions of artistic labor, locational identity, and the museum apparatus, yet operated without institutional support. Some builders incorporated regional craft traditions, or utilized skills learned though their professions and elder family members. These artists were likewise doing interventionist work that addressed pressing local and regional issues including gentrification, industrial development, or the loss of manufacturing jobs in their communities.
In this field, opportunities for research are vast and the network of individuals involved in preserving art environments are immensely generous. It's like an extended family—in my experience, once you meet someone, they will put you in touch with another individual who was an integral part of a site's history. Sometimes it's the kind of information you can't glean from archives or secondary sources, so in that sense this line of research relies heavily on oral histories. There's also a very real, tangible outcome to this work—the more scholarship we have that demonstrates the importance of art environments in American art, craft, and material culture at large, the more we can advocate for their preservation (and the funds to do so).
You spent some time in the SPACES Archives last year. What did you find and how did that impact your research?
SPACES is such a wealth of information—visiting last fall completely changed the trajectory of my project! At the time, my goal was to do some exploratory looking and get a better sense of the ways Seymour Rosen shaped the field. It was interesting to see how his letters to government agencies and other potential funding sources mirror the big debates around folk art in the late twentieth century. Similar to folklorists in the 1980s, he was hesitant to refer to art environments as folk art. He understood that not all art environments drew on communal traditions, and folklorists had pushed back against describing them as such for that reason. Art environments at this time were caught between two artworlds: highly-individualized assemblage and junk-based sculpture displayed in major galleries and museums and a growing protectiveness of regional ethnographic folk arts, such as quilting or basket weaving. Because of this, funding to preserve them was often hard to secure since more bureaucratic channels required a monolithic definition of art environments—they had to fall under one category. At one point Seymour used the phrase "landscape makers" to describe environment builders, which I find intriguing. He carefully altered his language depending on the audience.
Spending time in the SPACES Archives also encouraged me to think about the integral relationship between photographers and environment builders during the 1980s and 1990s—something I hope to examine in my dissertation.
What's your primary research focus?
I'm interested in the ways environment builders were responding to new forms of transportation in the postwar era—spanning the expansion of the American highway system to the construction of major shipping ports on the coastlines, and even the commercial airline industry. Earlier scholarship positioned them as isolated individuals—I think to align them with the 1980s folk art market—but that often wasn't the case. Whether they were in communication with road-tripping photographers and activist movements, using car and airplane parts in their work, employed in the transportation industry, or facing displacement due to roadway construction projects, environment builders were very much a part of twentieth-century mobility and its material culture.
You have a new position at SAAM. Tell us about the work you'll be doing.
I'm relocating to Washington, D.C. as a Smithsonian American Art Museum Predoctoral Fellow, where I will have access to the Archives of American Art and work with my selected host, Leslie Umberger. Leslie's scholarship on art environments and self-taught artists has been profoundly influential to my project, so it's an exciting opportunity. I'm looking forward to connecting with my cohort, too—SAAM's fellowship program offers a structured calendar of events including dedicated time for fellows to share research and learn from one another, which is important to me. I'll be spending a lot of the time in the archives looking at papers related to art environments in the Midwest and South, exhibition histories, and collectors. I just signed up to give a lunchtime talk in October (through SAAM's series called ArtBites) on Emery Blagdon's Healing Machine, part of which lives in the museum's folk & self-taught art galleries. I was able to view the primary collection at the John Michael Kohler Arts Center's new Art Preserve last fall—it's an environment that really struck me, so I'm eager to learn more through the process.
Do you have any favorite sites? Which ones and why? What's on your list to visit next?
While living in central/southern California I've been able to visit Tressa "Grandma" Prisbrey's Bottle Village in Simi Valley (which will structure a chapter of my dissertation), Leonard Knight's Salvation Mountain in Niland, and the Watts Towers in Los Angeles. In 2019 I went to Howard Finster's Paradise Garden in Summerville, Georgia while doing a summer fellowship at the Johnson Collection in South Carolina—it was a long drive, but worth it.
The Bottle Village has been one of my favorite visits—I was lucky to attend a book signing event there last summer. Kathi Hofer, also an artist, published a short volume on the site that included rare images and a reprint of the 1960 Bottle Village story, in which Grandma details her building process. During the event, volunteers put out homemade lemonade and freshly-baked cookies, which I learned through one of the board members was something Grandma did for her visitors beginning in the 1960s. Prisbrey was a biological grandmother, but also kind of "performing" the architype of a grandmother through these gestures—something that intrigued feminist artists associated with the Los Angeles-based organization, the Feminist Studio Workshop, and later The Woman's Building. They held an exhibition of her work there in 1976. I was able to locate a few photographs, including one of Grandma with Suzanne Lacy and another with Betye Saar.
Next on my list is another trip to Wisconsin—I was so short on time during my first visit and couldn't see Mary Nohl's House, James Tellen's Woodland Sculpture Garden, or make the drive to the Dickeyville Grotto. Plus, I have a few more local supper clubs on my bucket list…


We wish the best for Elizabeth in her internship at SAAM this fall and we arethankful for the time she took to help create this post. This interview with Elizabeth Driscoll Smith was conducted by Annalise Flynn via email July 2022.


Do you have a project related to an art environment, SPACES site or related artist? We would love to hear about it, share our resources, and share your work! Please contact us at info@spacesarchives.org.