Embedding the Surface: Concrete Art Environments and D.I.Y. Rubblework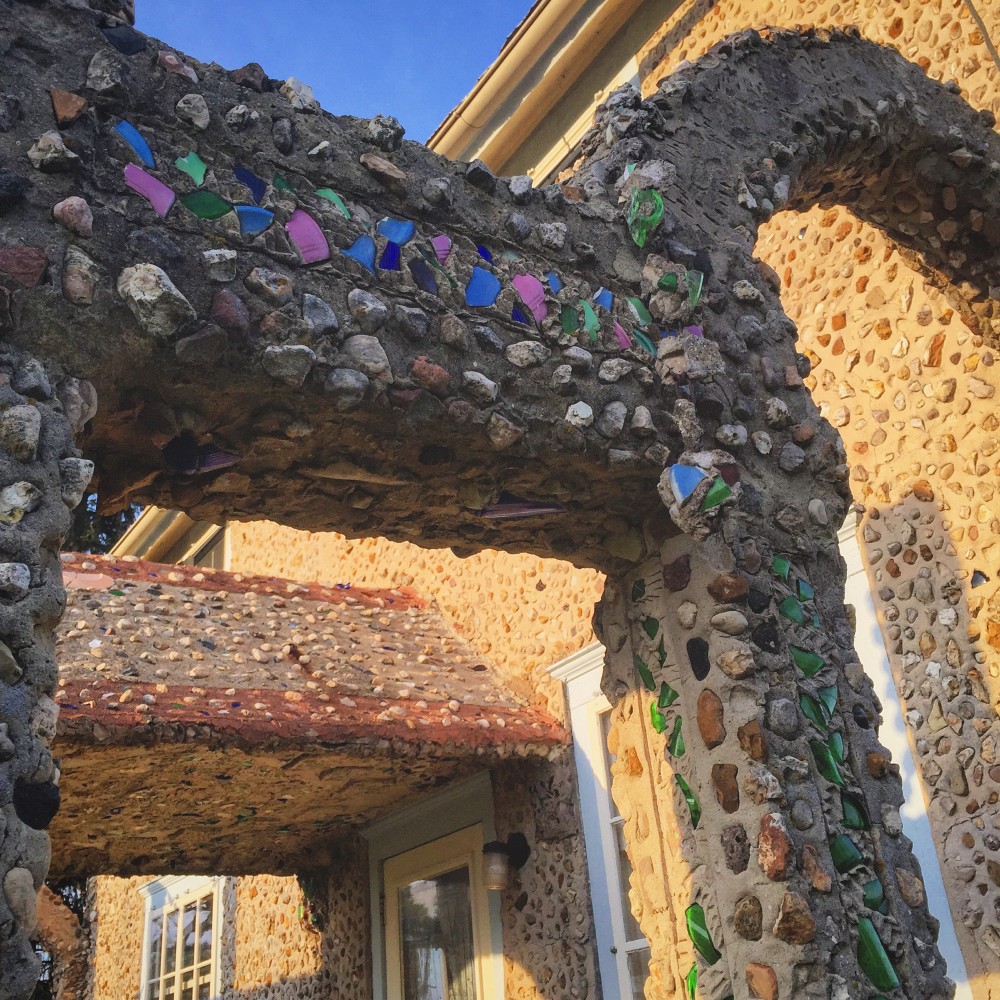 From the
Hartman Rock Garden
of Springfield, Ohio, to the
Christensen Rock Garden
of Albert Lea, Minnesota,
nearly every concrete sculpture garden in the Midwest includes some form of mosaic rubblework.
Fred Smith (1886-1976) of the Wisconsin Concrete Park used broken bottles to decorate his concrete sculptures because he liked the way the color and reflectiveness of the glass colored the otherwise "dead" concrete. Even the Rudolph Grotto Garden and Wonder Cave, where Father Philip Wagner (1882–1959) intentionally hid his cement structures beneath the rocks for a natural appearance, features surface ornamentation using glass from the Kokomo Opalescent Glass Company (Kokomo, Indiana). So, where did they get their ideas? Though each artist had access to different materials, leading to their own signature style, the overall aesthetics are remarkably similar.
Nestled atop a hill in Hollandale, Wisconsin, Nick Engelbert's (1881–1962) Grandview matches in character the type of rubblework surface handling that concrete champions documented decades prior (Fig. 3). Albert Moyer's "True Concrete House" shares the simplicity and squareness of the Engelbert house with low relief aggregate and rubble surface handling (Fig. 4).
At a distance, the surface textures of the concrete houses are nearly identical, but a closer look exposes a difference of method. The designer of the Moyer house achieved a textural surface by adding large aggregate to the concrete and then "polishing" the surface before it fully set in order to expose the stones in low relief. On the other hand, Englebert used more of a stucco and mosaic technique by impressing soft concrete with rocks. Both houses use a mixture of rubble or aggregate surface texture and glass mosaic ornamentation. Moyer's concrete house uses ornamentation to frame the windows and decorate window boxes (Fig. 5), while Engelbert's house features ornamentation around the crown of his front porch (Fig. 6 & 7). Both favor symmetry with plant-like shapes that soften the hard concrete.
During the early twentieth century, periodicals provided home improvement instructions for projects using ready-mix concrete. The public was eager to make use of this affordable modern material in their homes and publications responded in kind. Articles between the 1910s and 1930s provide examples of home improvements such as fences, planters, and benches, encouraging readers to prioritize aesthetic effect of concrete. At the same time, they assured readers that concrete was affordable and plastic so that just about anyone with time and a bit of ingenuity could use it to the betterment of their home.
Colin Campbell wrote extensively on the practical and aesthetic uses of concrete, regularly teaching readers how to create rubblework by embedding the surface with small rocks and pebbles. Campbell encouraged his readers to keep the concrete structure simple, but think about how to add interest to its surface. His instruction on style parallel the simple structures with ornamental surfaces that are characteristic of concrete art environments across the United States.
Campbell was accompanied by many other writers who were interested in artistic uses for concrete and concrete surfacing. Published in 1931, an article by Ray Wyrick taught readers how to make a grotto, using the Grotto of the Redemption in West Bend, Iowa as a famous example of "brilliant color combinations" in surface handling. In his 1923 article "How to Make Concrete Walls Attractive," B.F. Clark directed readers to using affordable alternatives to gravel, especially by recycling broken glass. He instructed them to break heavy bottles in all different colors and to scatter them randomly across the surface of the concrete to create an "artistic effect" and to overcome the monotony of the surface.
The style of surface embellishment also has precedent as the pique assiette technique of decorating ceramic or, in this case, concrete surfaces by embedding the surface with broken shards of ceramics and glass material. Joseph Sciorra framed pique assiette work as a favorite of New York and east coast Italian immigrants in order to flesh out the traditions that supported Sabato Rodia's Watts Towers in Los Angeles. The pique assiette work is similar to the work we find in the Midwest, where artists embedded stones and glass in concrete garden benches and flowerpots, architectural surfaces, fences, and other garden ornaments and structures.
From the Watts Towers of Los Angeles and Italian pique assiette of New York City to the concrete sculpture gardens of the Midwest, artists of the early twentieth-century experimented and pushed the creative limits of concrete by creating monumental structures. They also tested the surface, adding texture, color, and even transparency to an otherwise monochrome canvas. But they were not alone in their endeavor. Architects and do-it-yourself columnists joined them in embedding the surface, transforming an industrial material into an artistic medium.
Cortney Anderson Kramer
is an Art Historian of American art specializing in modernism / postmodernism, and the categorical developments of self-taught, folk art, and craft. She is completing her dissertation titled
"It's gotta be in ya:" Heroic individualism and the roadside concrete sculpture garden, 1910-1960
(Ph.D. 2021) and is managing editor of the public humanities project
Wisconsin 101
.

Header Image: Detail, Nick Engelbert's Granview. Jen Balge, 2016.