Finster Fest: The Celebration Continues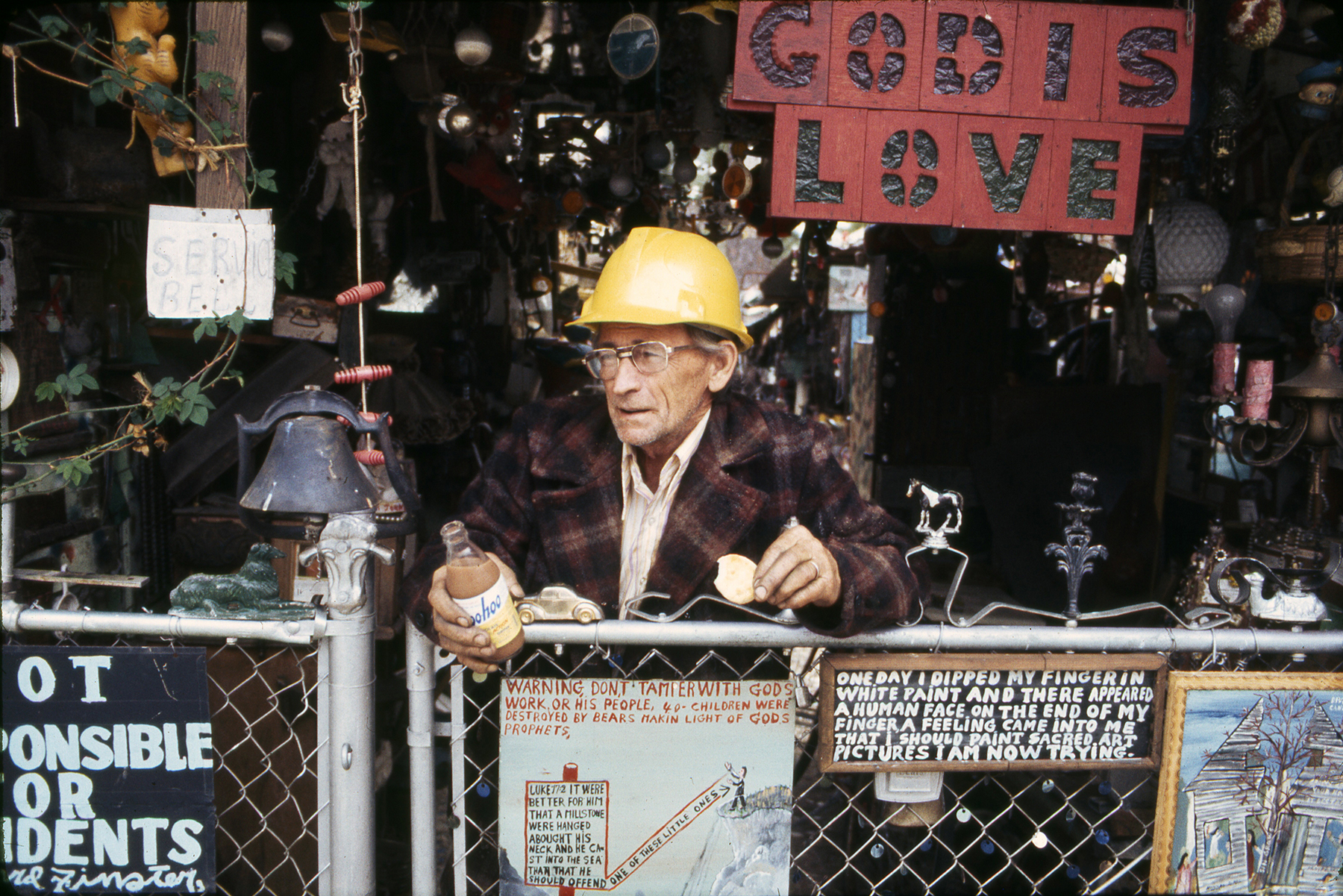 Can you introduce yourself, your positions, and your work in the field of art environments?
OK: Hi there! I'm Olivia Knauss and starting in December 2022, I joined the Paradise Garden Foundation team as their new Operations Manager. I had a very memorable first visit to Paradise Garden when I was researching the Garden for my graduate thesis at NYU a couple of years ago. When I visited, I rode out a tornado in one of the Garden's three Airbnb Suites, with the Garden cats, Calvin and Hobbes. Walking through the Garden at night and reading Howard's signs throughout was incredibly memorable. The experience stuck with me, even after I returned to NYC to finish up my master's degree and embrace a whole new world of remote work during the onset of the pandemic. When I saw that the Garden was hiring, I had to apply.
Throughout my career, I've gathered experience working with collections, archives, curatorial research, grant writing, and most recently before this role, development. In many ways, it feels like I've been gearing up for this for years, and I'm happy to be part of the team that is working each day to preserve and share Howard Finster's legacy with future generations.
HP: Hi, I'm Howard Pousner, a board member and former board chair of the Paradise Garden Foundation, the nonprofit that operates the Garden for Chattooga County, the Northwest Georgia county where the Garden is located, and the entity that purchased the Garden in 2011. I'm a former Atlanta Journal-Constitution arts editor and reporter. I interviewed Howard Finster twice in his later years. I also covered the reopening of the Garden after Chattooga County purchased it, and some of the early restoration successes and challenges.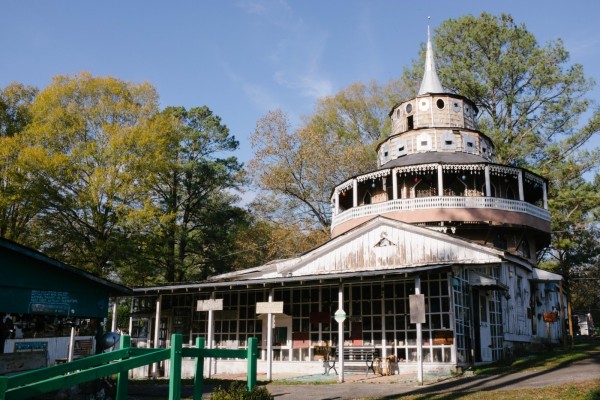 Who was Howard Finster, and what is Paradise Garden?
OK: Created by one of the most celebrated folk artists in the United States, Rev. Howard Finster (1916-2001), Paradise Garden is an internationally acclaimed 4-acre art environment. Finster was a Baptist preacher and fix-it man. In 1961, Finster moved to the current property in Pennville, Georgia, and after filling in what was a swamp, he opened bicycle, motor, and TV repair shops in his backyard. He also started building "The Plant Farm Museum" in this location, (later renamed "Paradise Garden"), which showcased the inventions of mankind.
In 1976, while repairing a bicycle, Finster had another vision, and heard the instruction to "paint sacred art." As a result, Finster created 46,991 numbered works of contemporary American folk art (including album covers for R.E.M. and The Talking Heads) before he passed away. There are also many works created by Finster that were not numbered including doll furniture, clocks, bookcases, and many woodworking projects he created prior to his 1976 vision.
Many museums like the National Gallery of Art, Library of Congress, Smithsonian American Art Museum, and the American Folk Art Museum have Finster's work in their collections. Yet, his art environment, Paradise Garden, tells the story of Finster's rise to fame and was the impetus for his international recognition. Building an art environment naturally attracted visitors and was ultimately why bands like R.E.M. and BlackHawk went on to film music videos in Paradise Garden, complete with cameos of Howard Finster himself. Although Finster passed away in 2001, Paradise Garden still attracts 8,500 annual visitors.
Finster Fest is one of Paradise Garden's most significant events, and it's coming up soon! Can you tell us about the history of the Fest?
OK: Our Executive Director, Tina Cox, describes the event best: "Finster Fest is our opportunity to showcase Howard Finster's legacy." Hosted in the fall at Paradise Garden, Finster Fest is a two-day folk-art festival that features 60+ folk artists from 10+ states and 13+ live musical performances on stages throughout the Garden. Throughout the weekend festival, visitors are invited to shop at artist booths and food vendors, learn about self-taught and folk art through artist and author talks, create artwork in the kid's section, listen to folk, Americana, indie, new wave, country, bluegrass, and gospel music, and dive into local cuisine.
I've been told that it is because of those who knew and loved Howard Finster, board members like Howard Pousner (who is to thank for organizing and inviting artists to the festival each year), that Finster Fest has been able to thrive throughout the years. As a festival goer, folks encounter board members, staff, and volunteers who knew (and loved) Howard Finster throughout each interaction at Finster Fest – from the person driving your shuttle bus, to the person taking your admission at the door, to those greeting visitors at the VIP Patron Bungalow, and even the band members playing.
Since this will be my first year of involvement with Finster Fest though, I'd love to pass on the torch to Howard who has been integral to many, many Finster Fests!

What's in store for this year's Finster Fest?
HP: We will have more than 60 local, regional, and national artists – mainly self-taught makers, but also fine artists and craftspeople – showing and selling their work. We're very fortunate that among them is a strong contingent who had the experience of showing at Finster Fest before Howard Finster died in 2001, including Peter Loose, Kimberly Dawn Crowder, Eric Legge, Jim Shores and Charles M., and Grace Kelly Laster. These artists were early in their creative journeys in the 1990s, and they all credit Howard as an early – and continuing – inspiration. We're also excited to have an emerging group of folk artists, the next generation of makers who will carry folk art forward, some of whom were toddlers or not even born when Howard left us.
Alongside the artists, another strong draw is Americana music, most of it acoustic, on three stages dotting the festival grounds. Notable musicians this year include the Pylon Reenactment Society, Pony Bradshaw, Kindred Fire, and Abe Partridge (who's also a self-taught painter and will have a booth in the Artist Market).
We also will offer art-making opportunities for our youngest festival goers in our new Art & Learning Center.
Finally, we'll have some great Southern food, from "world famous" pimento cheese sandwiches and lemon pound cake homemade by members of the Chattooga Garden Club to barbecue by longtime Summerville pitmasters the Mosley family.
How has the event changed throughout the years?
HP: Finster Fest was launched in 1991 as a sincere show of respect to Howard by an organization of local artists who appreciated his huge impact on his small community, drawing folk art fans from around the U.S. and abroad throughout the year.
After several years, the Finster family assumed responsibility for orchestrating the Fest. Howard was known as an artist who encouraged all kinds of artists, especially up-and-coming ones. So, the Fest, during his final decade, had a strong homegrown feeling, with nationally known artists such as Myrtice West, Annie Tolliver, and Missionary Mary Proctor, enhancing the mix.
There were a few Fests held in the years after his death, but without Howard as the main attraction, the event lost traction. And the Garden faced various financial issues, too, so there were many years without Finster Fests until Chattooga County purchased the folk art environment, and the Fest was revived in 2013. The first couple of the revived ones were held in Dowdy Park just outside downtown Summerville, while restoration projects were underway in the Garden. The 2013 and 2014 editions, which mainly featured artists from the local community and local vendors selling a variety of goods, included separately ticketed concerts downtown (Norman and Nancy Blake and Col. Bruce Hampton were featured the first year). With several Garden projects then completed, the Fest returned to Howard's hand-built attraction in 2015. For this "homecoming" event, a special effort was made to focus the Fest on folk art, to seek artists from beyond the immediate community and to present only handmade art. With each year since, the fest has drawn increasingly from around the Southeast – and some states well beyond the region. Our artist from the farthest afield this year will be Jim Kopp, from Casper, Wyoming!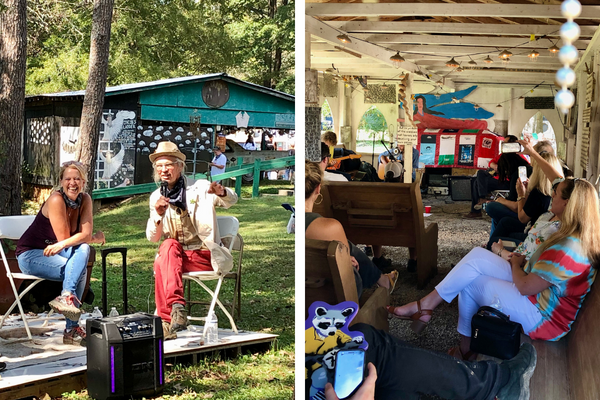 What does the future of the event look like? Is anything else exciting coming up at Paradise Garden?
HP: We feel like we've hit a sweet spot with the festival, with 2,000 guests attending over the two days for the past few years (save for 2020, when we had to cancel due to the pandemic), 60 artist booths, three music stages, plus three or four vendors. The quality of the art and music has been on a steady rise, our crowd seems very engaged, our artists are happy to be in such an inspirational place and experiencing good sales. Because of the unique layout of the Garden, with Howard's structures and sculpture standing here and there, and limits of parking and volunteer force, we are probably as big as we can get currently. Sometimes getting bigger is not better. But we have spun off one smaller art sales event, the May Artist Market, to help support area artists and give new artists an opportunity to show in the Garden, since it's hard to break into Finster Fest.
We are gearing up for a major capital campaign to restore Howard Finster's World's Folk Art Church and other aspects of the Garden. When we are closer to beginning that important work, we will have to see if we can manage to have Finster Fest at the same time. The Fest will go on, but we may have to make adjustments. When there are 2,000 guests in the Garden over two days, to say nothing of artists, musicians, food vendors, staff, and volunteers, that is pretty much capacity!
OK: It's hard to believe it, but we've already started thinking past Finster Fest, to our next events. Fall in Paradise Garden brings "Finster in the Fall" with several events planned. North Georgia is primed for the leaf-watching season so every week our visitors have something new to enjoy. In late October, we'll be hosting our second Creative Spirit Retreat. Throughout this day-long event, participants will enjoy an hour of yoga in the Garden with Chattanooga-based yoga teacher, Cyndi Allen. Afterward, they will head into our new Art & Learning Center for an art workshop with Finster Fest artist, Kimberly Dawn Crowder. We'll end the day with a closing reception for Eric Legge's exhibit, "the secret is," which is currently on view in our Visitor Center & Museum.
In November and December, we host a magical Holiday Season with Starry Nights in Paradise. White lights fill the historic campus of Paradise Garden. For a dash of fun, we trim our Visitor Center, Airbnbs, and Art & Learning Center with fun-loving color lights. We'll also host our annual Holiday Art Market in the Visitor Center & Museum as we get into the holidays. This exhibit features small-scale art and crafts by a selection of our Finster Fest artists. These works are for sale to the public, so they make wonderful holiday gifts. We will round out the Holiday Season with a bluegrass holiday event – more details to come!
Finally, the last quarter of 2022 brings a deep dive into our capital campaign planning with the final phase of our feasibility study and, in the new year, start thinking about Finster Fest 2023!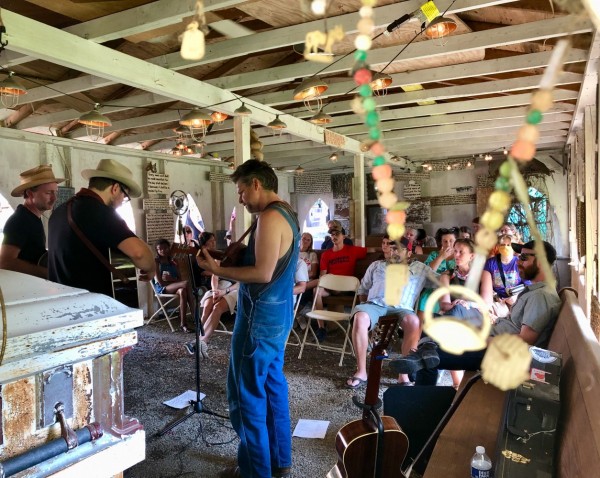 General Paradise Gardens visiting info:
Today, Paradise Garden is an economic driver for Chattooga County and Northwest Georgia region. Year-round, visitors can explore Paradise Garden Tuesday-Sunday, 11 am – 5 pm, or stay overnight and explore the Garden after hours while staying in one of the three Airbnb Suites on-site. Finster was notorious for collecting found objects and repurposing them in his artwork around the Garden. Throughout Paradise Garden, visitors can investigate concrete walls with found object art reliefs, 200 feet of mosaic sidewalks, a 50-year-old mosaic garden with embellished raised beds, a 300 ft. outdoor gallery called "the Rolling Chair Ramp", and 18 different art sculptures, murals, and buildings including the five-story World Folk Art Church. Visitors can even watch clips of Finster's appearance on Johnny Carson's "The Tonight Show" in 1983 in a TV set up in the Rolling Chair Ramp.
Programmatically, Paradise Garden Foundation offers rotating art exhibits in the Visitor Center & Museum, tours of the Garden, spring and holiday artist markets, youth art camps, art classes, retreats, and artist residencies, live outdoor music, and Finster Fest, which is our nationally recognized folk art festival sponsored by the National Endowment for the Arts.

Each year, visitors come to Paradise Garden to participate in art experiences specifically designed to spark cultural tourism, attract artists to the region, and invite in-area residents. Listed on the National Register of Historic Places, Paradise Garden is what CNN dubbed, "The South's most inspired garden."