Help Fund the Ed Galloway Totem Pole Restoration Project!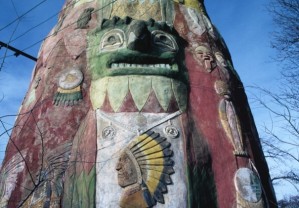 Ed Galloway's Totem Pole Park (built from 1937-1948) located within the Rogers State Historical Park in Foyil, OK, is in need of conservation. Although the site, which includes a 90-foot concrete totem pole surrounded by several smaller totems and a small octagonal building, has been restored several times over the years, with the exception of the work sponsored by the Kansas Grassroots Art Association almost two decades ago, none have been of sufficient quality, nor sufficiently durable.
Following a year-long investigation as to how best to restore the top half of the totem, a team led by teachers Erin Turner and Margo Hoover has begun a campaign to raise funds for these efforts. Check out the link and help fund this important restoration project: http://www.totempolepark.org
You can find out more about the project through their recent Kickstarter Campaign page, here.
And, as always, learn more about the site on the Ed Galloway Totem Pole page in our Online Collection, here.