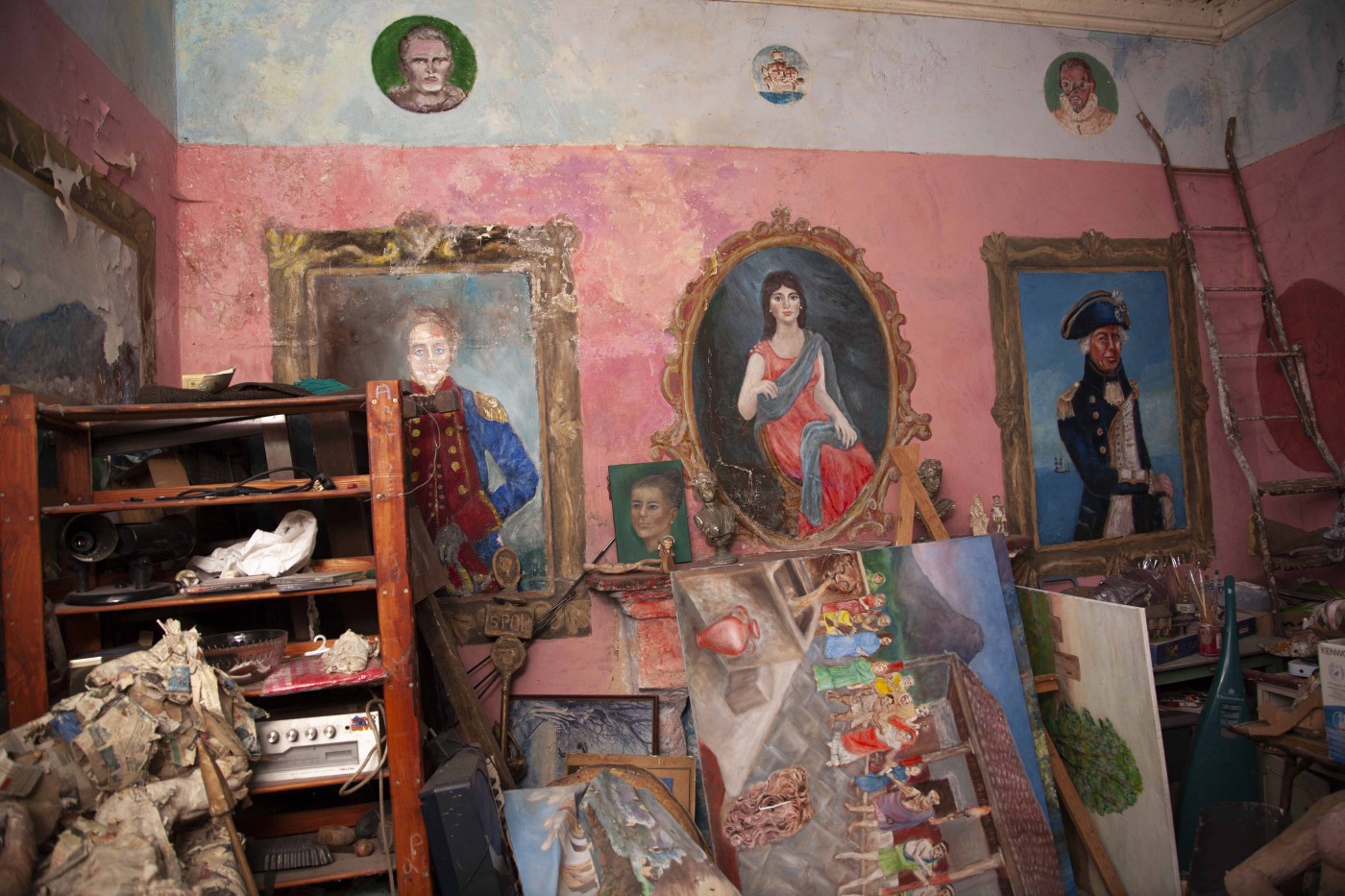 SPACES recently had the pleasure of speaking with Martin Wallace, a member of a team of people working to preserve Ron's Place, an art environment by Ron Gittins in Liverpool. Wallace is a filmmaker, an International Emmy and Royal Television Society award winner, and BAFTA nominee. He directed the late 1990s series about art environments, "Journeys Into The Outside with Jarvis Cocker," and he is in the process of making a feature-length documentary about Ron Gittins and incredible work.
How did you learn of Ron's Place? What were your immediate reactions?
I first saw Ron's Place in an online article by a local Liverpool newspaper in January 2020. Ron Gittins had died rather suddenly, a couple of months before, aged 79. Ron's older sister, Pat, lived in the same town. She had always known Ron was very creative, but she had no idea of the extent of the work he had done until after he died.
Ron's flat was rented. At first Pat and her husband Henry understood they had only a short time to clear the place out entirely before Ron's rent was up. Much of what Ron had made was painted directly onto the walls, or in the case of the fireplaces, was fixed to the walls in such a way as to make removal impractical without significant damage. The sisters, therefore, assumed almost everything would be lost when the landlord redecorated the flat for the next tenant. At this point, however, Pat's daughter Jan and her partner Chris got to see Ron's flat. They live 260 miles away and are artists/photographers who run socially engaged projects from their mobile venue, The Caravan Gallery. They could tell immediately that Ron had created something amazing, and they asked if the landlord would allow them to keep paying the rent whilst they tried to find a way to save the place. The landlord agreed. They started a campaign and publicised it through the newspaper. It was at that point that I got in touch with them to see if I could help.
In the late 1990s, I had made a three-part television series about large-scale visionary environments around the world. (That series "Journeys Into the Outside with Jarvis Cocker" can be watched for free on YouTube here.) I was amazed that such a place had now been found just 11 miles from my home. In the TV series, as well as investigating about thirty sites from Mexico, throughout the United States and, all the way to India, we also spoke to several of those creators who were still living. My biggest regret now, of course, was that I never got to meet and interview Ron, given how geographically close we were.
When Pat had first gone into the flat, most rooms were crammed with various stuff and the murals and fireplaces could hardly be seen. Often, you could only take a few steps into a room before being blocked by towers of what seemed like junk. Pat's younger sister Joan was horrified at the mess and wondered how on earth Ron could have lived in those conditions. Some of the stuff Ron had gathered appeared to have been materials for what may have been new creations he'd planned; other times the stuff was things like books and video tapes, additional prams (which he used to ferry materials), as well as the body parts of the many, life-size papier-mâché figures he created. Overall, there was a lot of clutter and in one of the rooms there had been a leak so that a section of the ceiling had collapsed and the floorboards were rotten.
By the time I got to see the place, the most damaged and irredeemable of the clutter had been cleared by the family assisted by friends. My first impressions were that I could feel a really powerful sense of a highly creative person who had been teeming with ideas. On the one hand, there was a rather controlled sense of design as to how he had approached each room, in which the murals tended to be themed around periods of either ancient or more recent history; on the other hand, there was an excessive and chaotic energy that spoke of someone creating from a powerful inner need, more than a simple desire to make the place look 'nice.'


How is Ron's Place culturally and artistically unique to the area? To the country?
Compared to the U.S. and France, for example, the UK does not have much of a history of visionary environments, or, to be more accurate, not that we know of; for who can say what places have been lost without knowledge of them ever reaching a wide public. My hunch as to why this may be is that, compared to the two other countries I've mentioned – the UK has for a long time had strict building regulations that tend to inhibit any unofficial development. We also tend to live in towns and cities that don't have as much land per property as is often the case in the U.S. and France, and our frequently wet and miserable weather may also play a part. Regardless of whether or not my little theory is correct, there's nothing like Ron's in the UK in terms of the intensity and scale of the work Ron has done single-handedly and on a shoestring budget. He worked on the place from 1985 until his death in 2019.
Sadly, there have been two other UK environments that have been either totally or partially lost recently. In west London, there had been really positive steps made to save Gerry's Pompeii. Gerard "Gerry" Dalton (1935–2019) died about the same time as Ron, but due to the well-connectedness of those already aware of Gerry's Pompeii, they were able to mobilise some really high-profile gallery and museum involvement, which in turn attracted financial pledges of public money. Within a short space of time, it looked like they had about half a million pounds available. However, before they could advance their plans (which had the blessing of Gerry's sister as Gerry had no family of his own), a nephew took all the removable elements of Gerry's Pompeii and put them into storage. It's unclear what will happen next. Another environment lost entirely last year was in Hemel Hempstead, about 25 miles north of London. This was another rented flat; this time owned by the local authority. As soon as the creator, Diana Keys, died, the demand for social housing meant that all her murals were simply painted over. Seeing both of these places lost has made me determined that Ron's Place must not go the same way.

How did you decide to try to save the environment? What were your first steps?
In terms of trying to save the place, at first, the objective was simply to avoid the landlord's sledgehammer by paying the rent and buying some time to scope out what might be possible. Jan and Chris invited various arts and culture professionals to form an advisory board with the aim of developing a strategy for a sustainable future for Ron's. As well as the early photographs of the flat taken by Jan and Chris, I began to shoot some film of the place and some 360 degree images of each room. Efforts continued to make Ron's a bit cleaner and more conducive to allowing others to see the place in a way that was safe. We organised two local events and publicised them on the radio. About 150 people attended, many of whom had known Ron at different stages in his life and lots of interesting stories about him emerged. We raised eight thousand pounds within a month and felt that was a good start. However, this was back in March 2020 and the global pandemic suddenly threw a spanner in the works. The momentum we had built was therefore dinted over the next year or so. We carried on paying the rent but weren't able to really do much else. Like everyone else, the uncertainty of the pandemic made it hard to make firm plans for the future.

What work has been done so far to protect and maintain the work? What are the most urgent needs going forward?
As the pandemic began to recede we were able to once again focus our efforts. We have now formed a legal entity with charitable status and the aim is to buy the entire building. This is no small feat because it's a large house (with three additional flats upstairs) in what is now a gentrified area. We are working towards creating managed access to the site with an emphasis on a programme of outreach work that will use Ron's Place (as we call it) and Ron's colourful life story as a point of inspiration to encourage creativity in all of us. The emphasis will be on how being creative can help with our mental health and well-being. That certainly seems to have been a strong component of how Ron's work functioned in his own life. Meanwhile, the upstairs flats can be improved and let at affordable rates, providing a small income, helping to sustain the site as a whole.
So overall, there's a lot of work to do here because this activity, although it connects to Ron's Place, is focused on working with groups (mostly off-site) to empower them to make their own work. But we feel that this is the only realistic way to ensure we can raise the money to save Ron's Place. In other words, we need to make Ron's Place relevant to community needs now and into the future. Ron's Place can be a catalyst for positive change.
We are currently undertaking some pilot projects that aim to demonstrate the kind of positive impact Ron's Place can have as a springboard for creativity in others. We will then use the evidence of these projects to make a case for a combination of investment from public and private funders. As part of this financing mix, the legal entity we have formed gives us the right to launch a 'community shares offer,' which will allow members of the public to buy shares in the programme. These shares aren't the kind that can be traded for financial benefit, it's about individuals wanting back positive change.
Regarding the preservation of Ron's environment in a material sense, if we can buy the building we will make repairs and adjustments that can mitigate the effects of damp that are impacting some of the murals. We have a couple of local universities who are interested in using scanning techniques to better document the site as it stands. More generally, the issue of more detailed conservation is a difficult one. Although Ron's concrete fireplaces are very solid, some of his murals are already flaking, even in places not affected by the ingress of exterior moisture, and his papier-mâché figures are, by their very nature, extremely fragile. So, as well as looking for cost-effective ways to conserve what Ron has created, the fragility of some of the site's components also creates a sense of urgency that, in a positive way, points to the fact that we need to make the most of Ron's Place now and create a parallel legacy that lives on in the work and empowerment of new people who have been inspired by what Ron did.
The most urgent thing for us now is to build support locally, nationally and internationally, so that we can make the case to potential funders who do not initially understand that Ron's is a site of international significance. Most pressingly, we also need some more money to continue paying the rent because we are now in arrears. This leaves us very vulnerable to the landlord making a hasty decision which could prove devastating to the site. Sadly, there is already a precedent for this. Immediately after Ron died, without any consultation with the family, the landlord smashed down the two pillars Ron had built on either side of his door. With that in mind, it's crucial we get back to paying the rent so the landlord has no excuse for not continuing to work with us.
That brings me to the inevitable appeal – if you like what Ron has done and are interested in our plans to use Ron's Place as an inspirational springboard for new creativity and empowerment, then please consider donating. We're not ready with our community share offer yet, so for now the best way is to donate to our Saving Ron's Place fund. You could either do that as a one-off donation or consider supporting us on Patreon, where you'll get plenty of behind the scenes info as we unearth more of Ron's secrets, as we continue to work through the wealth of documents Ron left behind. If you want to find out more about our plans, then please head over to the website where you can see more photographs of the site and learn more about Ron. We'd also love to hear from you if you have advice or suggestions or maybe you'd like to arrange a visit.