Out of Office: New Mexico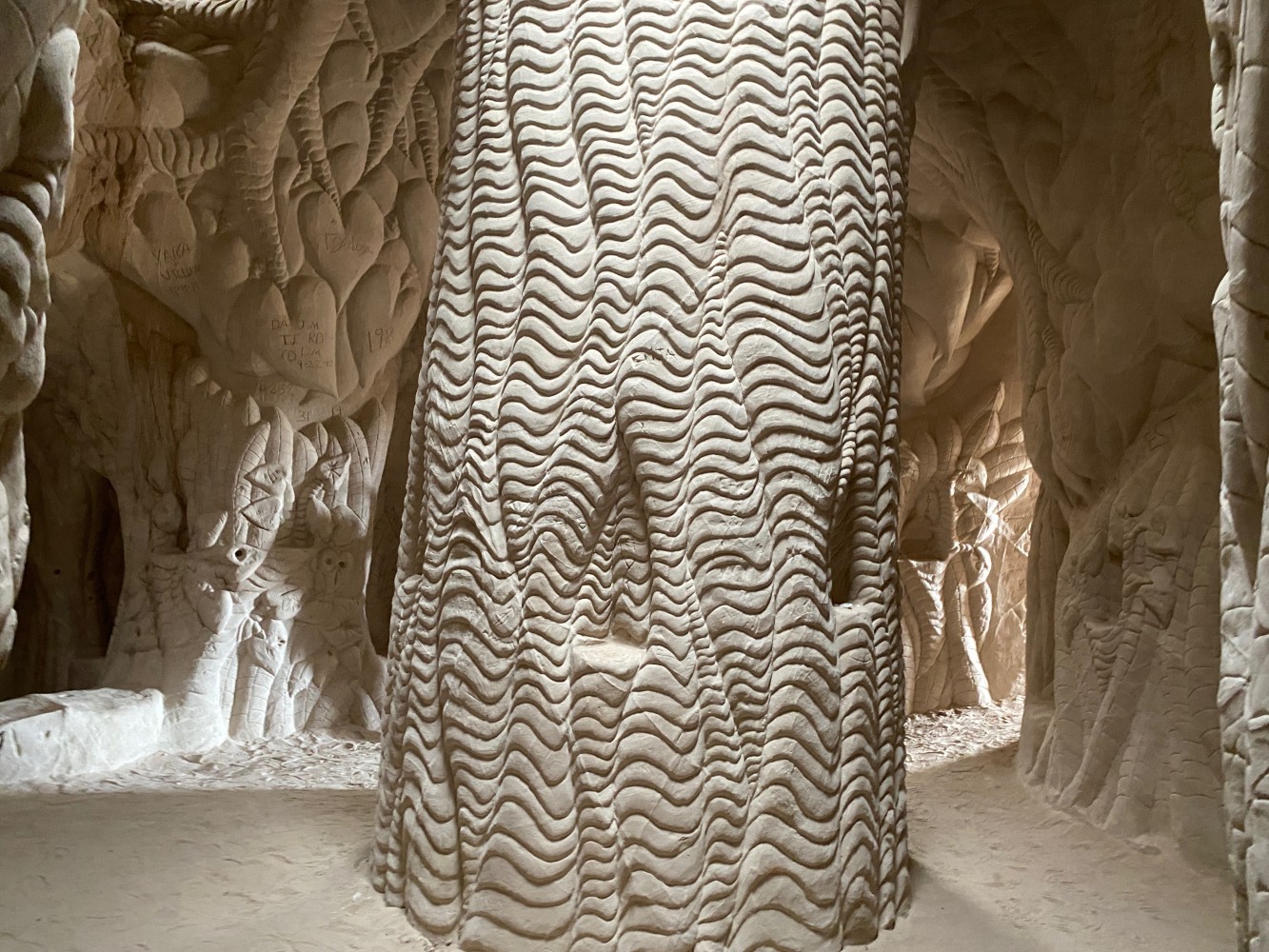 In May of 2021, I had the opportunity to visit my good friend Jenny in New Mexico. While I do get the chance to travel from time to time, I haven't spent much time in the desert, and when my host offered to take the scenic route from the airport in Albuquerque to Santa Fe, I was ready to absorb some sun-soaked, non-Wisconsin landscape.
Rather than taking the straightforward I-25, we took our time ambling along Highway 14. About halfway between Albuquerque and Santa Fe lies Golden, New Mexico. Once a gold rush town that supported a post office, saloons, and a school, it officially became a ghost town in the late 1920s after mining operations slowed and is now home to a small but dedicated population that keeps their vibrant past alive.
As we coasted along, there was a sparkle on the roadside–Jenny slowed down and pulled over as I excitedly said "We have to get a closer look at this!" Little did I know that we had stumbled upon the home of former Golden mayor Leroy Gonzales and his art environment–part yard show, part town museum, and all playfully presented to us by the artist himself. Large hand painted signs let us know it was open, free, and there was a gold mine!
We hopped out of the car and took a closer look at the materials that made up the perimeter of the property: hemingray insulators and other objects dotted the ground, flowerbeds filled with both real irises and silk flowers added to the many colors, and bottles hung on wires that criss-crossed above the fence proper, adding lovely visual height to the overall scene. Within a few minutes, Gonzales walked out and welcomed us to his home and museum. He showed us his business card and then introduced us to the various vignettes on the property: the gold mine, the museum (filled with very sweet notes, letters, and pictures from visitors), the cantina, the ranch, and all the moments in between.
Gonzales uses found objects, both natural and handmade, and constructs amusing mash-ups. A shapely stump and a belt became his "pants," piles of earth with embedded rock became his dog and his cat, and so on. Gonzales was a gracious host and we were thankful to have happened upon his site and his hospitality!
The next day was the art environment adventure I had been planning and hoping for—seeing the Tree Cave of Ra Paulette. [To note: the Tree Cave is on private property.] After a desert drive, we saw something nestled in the sandstone—a skylight! We excitedly clamored up the rest of the hillside and discovered a door — a perfect, wooden rounded door that reminded me of magic and hobbits. As Jenny opened it, it was a moment of pure and perfect awe. The Tree Cave.
Paulette begins his works by first carving the skylights, and it's no wonder why—the glow really brings life to the space. With undulating carved curves highlighted by the raking light pouring in from the sky, your eyes are brought on a journey following the contours that grow from the floor and spill over the arches of the ceiling. Within the main veins of curved branches and budding out from the tips are hearts, flowers, and leaves. It was an immersive experience unlike any other.
Despite the distractions of carved vandalism from those who visited Paulette's cave before us, it retained its peaceful and serene atmosphere while we were there. We were alone, and a misty rain had begun to fall outside. Though we were on somewhat of a clandestine mission, we took our time looping around the central "tree trunk," exploring the nooks and crannies that were carved into the stone. We had a moment of respect for the effort taken to create the space, and we were on our way. By the time we exited, the rain had stopped. We continued on our day and while visiting such a place may be insignificant to some, I feel as though the tranquility and beauty I saw there changed me.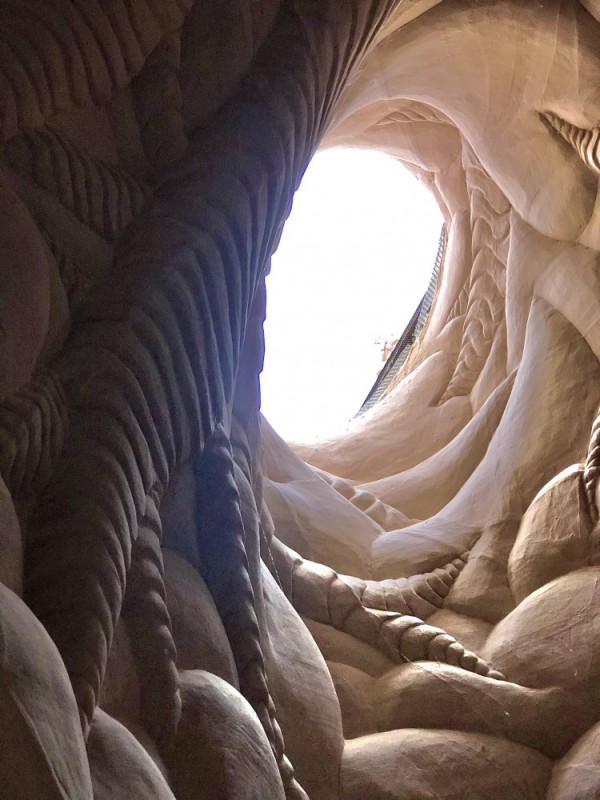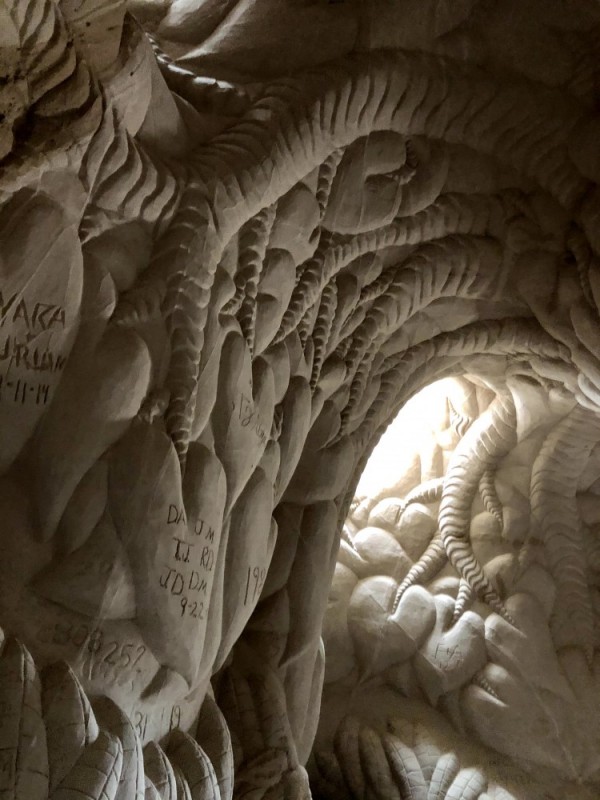 These two sites in New Mexico couldn't have been more different, and they demonstrate the vast possibilities of art environment builders: using what they have available to inspire them and lead them to creation. How wonderful it is that we get to experience the bounty of their imaginations!
Have you visited an art environment and want to share your story?
Get in touch at info@spacesarchives.org.