Getting on the Map: Completing a National Register of Historic Places Nomination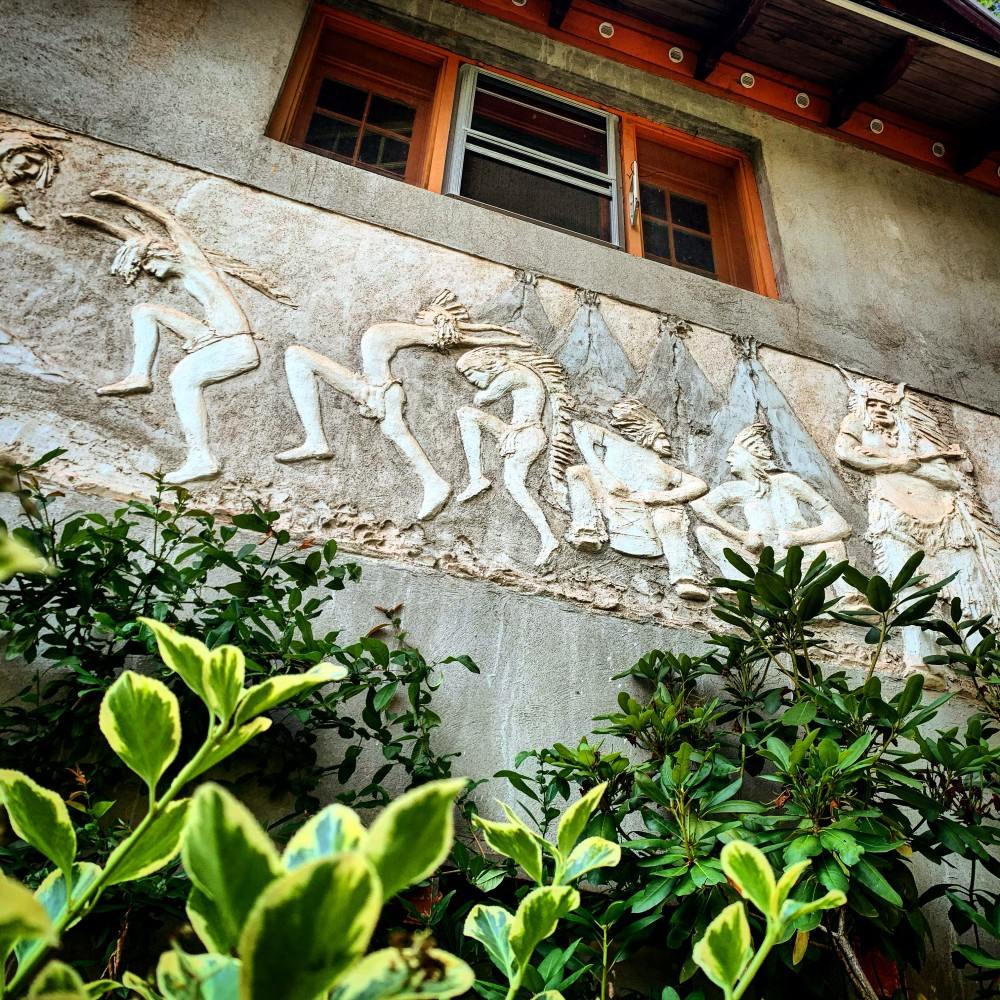 7 Steps Toward Completing a Successful National Register of Historic Places Nomination
Emma Mooney is an art and architectural historian currently pursuing a Master of Preservation Studies degree at Tulane University. She first realized her interest in the built environment during an internship with the John Michael Kohler Arts Center in 2014 and since then has researched art environments such as Joe Minter's African Village in America and Clementine Hunter's African House Murals. Before becoming involved in historic preservation, she worked in museum collections management, most recently at the Cooper Hewitt, Smithsonian Design Museum and the American Folk Art Museum.
As was thoroughly introduced by Lisa Stone in the SPACES Preservation Toolbox, the National Register of Historic Places offers art environments the opportunity to be recognized, legitimized, and more successfully preserved. Though nominations are often completed by heritage professionals, anyone with enough dedication can write a successful nomination themselves! Final acceptance into the Register is decided by the National Parks Service (NPS), but every nomination begins with a conversation between you and your State Historic Preservation Office (SHPO).
The NPS has published several detailed bulletins that provide guidance for every step of the nomination form as well as for more complicated nomination considerations such as archaeological sites, cemeteries, and properties that have achieved significance within the past fifty years (see Lisa Stone's Introduction for more information about the latter topic). For the most part, National Register Bulletins 15 and 16A will answer all questions about the standard nomination form. This blog post will discuss some of the most crucial steps toward crafting a successful nomination for an art environment:
1. Communicate with your SHPO. Since the passing of the National Historic Preservation Act of 1966, every state has maintained a State Historic Preservation Office. Within this office is an appointed Officer and a variety of other staff members focused on tax credit applications, Section 106 compliance, and so on. Your state will likely have a National Register Coordinator, who can help guide you through the process of nomination and who will ultimately help determine whether or not your nomination is accepted.
2. Complete an eligibility questionnaire. Not every SHPO has the exact same procedure, but it is likely that your state offers a preliminary questionnaire of eligibility. Submitting this form to the SHPO will help prevent you from spending too much time on a nomination that may not be eligible for a variety of reasons. That being said, even the most unusual of cases can be successful with the right argument, so receiving negative feedback from the SHPO initially is not necessarily the end of the line.
3. Plan your argument. A successful nomination will be thorough and compelling. The strategy for crafting this nomination is always specific to the site—there is no exact formula. The most important points on which to decide are the applicable criteria, area(s) of significance, period(s) of significance, and level(s) of significance. These decisions will dictate the topics you address in your writing—and it's good to explicitly address each. For these and other factors, at least one choice is required but multiple can be argued. However, it is important to find the balance between painting a holistic picture of a site's significance while also emphasizing what makes it distinct.
4. Determine your site's integrity. Another important factor for a successful nomination is demonstrating the site's integrity. The seven aspects of integrity are: location, setting, design, materials, workmanship, feeling, and association. It is important to prove that your site has as many of these aspects as possible, as integrity is defined by the NPS as "the ability of a property to convey its significance." For better or for worse, judgement is often based on the physical condition of a site. However, as advocates of art environments know, our sites are frequently made of unconventional materials that have suffered from weathering and neglect. If the materials of your site are severely damaged or have been replaced with materials by someone other than the original artist, perhaps focus on how your site retains integrity of feeling and association, the more evocative and subjective of the seven aspects. Because of this, "their retention alone is never sufficient to support eligibility of a property for the National Register," so be sure to argue for a combination of as many aspects of integrity as possible to substantiate your case.
"Historic properties either retain integrity (this is, convey their significance) or they do not. Within the concept of integrity, the National Register criteria recognizes seven aspects or qualities that, in various combinations, define integrity. To retain historic integrity a property will always possess several, and usually most, of the aspects. The retention of specific aspects of integrity is paramount for a property to convey its significance. Determining which of these aspects are most important to a particular property requires knowing why, where, and when the property is significant." -National Register Bulletin 15, page 44.
5. Execute your argument. The bulk of the nomination form is composed of a narrative description and a narrative statement of significance. Both sections also require a summary paragraph. Here is where you will craft a story of significance, perhaps touching on the life of the art environment builder as it relates to the site, the techniques and materials used, and the influence of the surrounding environment and vice versa (depending on whether local, state, or national significance is being argued), and so on. Develop a list of reputable and diverse references, from books written about a general cultural movement to transcribed interviews with the builder/artist. Make sure that the writing clearly supports your choices of criteria, areas/periods/levels of significance, and aspects of integrity.
6. Compile maps, photographs, and a photo key. Along with the written portion, a complete nomination also requires hand-drawn or satellite-captured site maps, a selection of original and unmanipulated photographs, as well as a key indicating where those photos were taken.
7. Practice your presentation. One of the final steps before a nomination is officially accepted is a brief presentation for your state's National Register Review Committee. Again, this step of the process varies from one SHPO to the next so check with yours for official expectations for presentation length and content. With the committee's suggestions and approval, your nomination will then hopefully move to the NPS for national confirmation.
These seven steps are certainly not an all-inclusive prescription as to how a nomination should be completed, but rather a framework from which to begin investigating the process. Ultimately, nominating a site requires a serious commitment and a willingness to dive deep into a property to understand its significance and its story. The first step, of course, is making the choice to undertake such a task to begin with. If you care enough to take this step, your passion for the site is surely to reflect in your nomination.


About the header image:
Photo by Brian Paccione. Courtesy of Friends of Brunel Park. The Brunel Sculpture Garden is a recent addition to SPACES and is also on the NRHP.