Out of Office: Atlanta, Georgia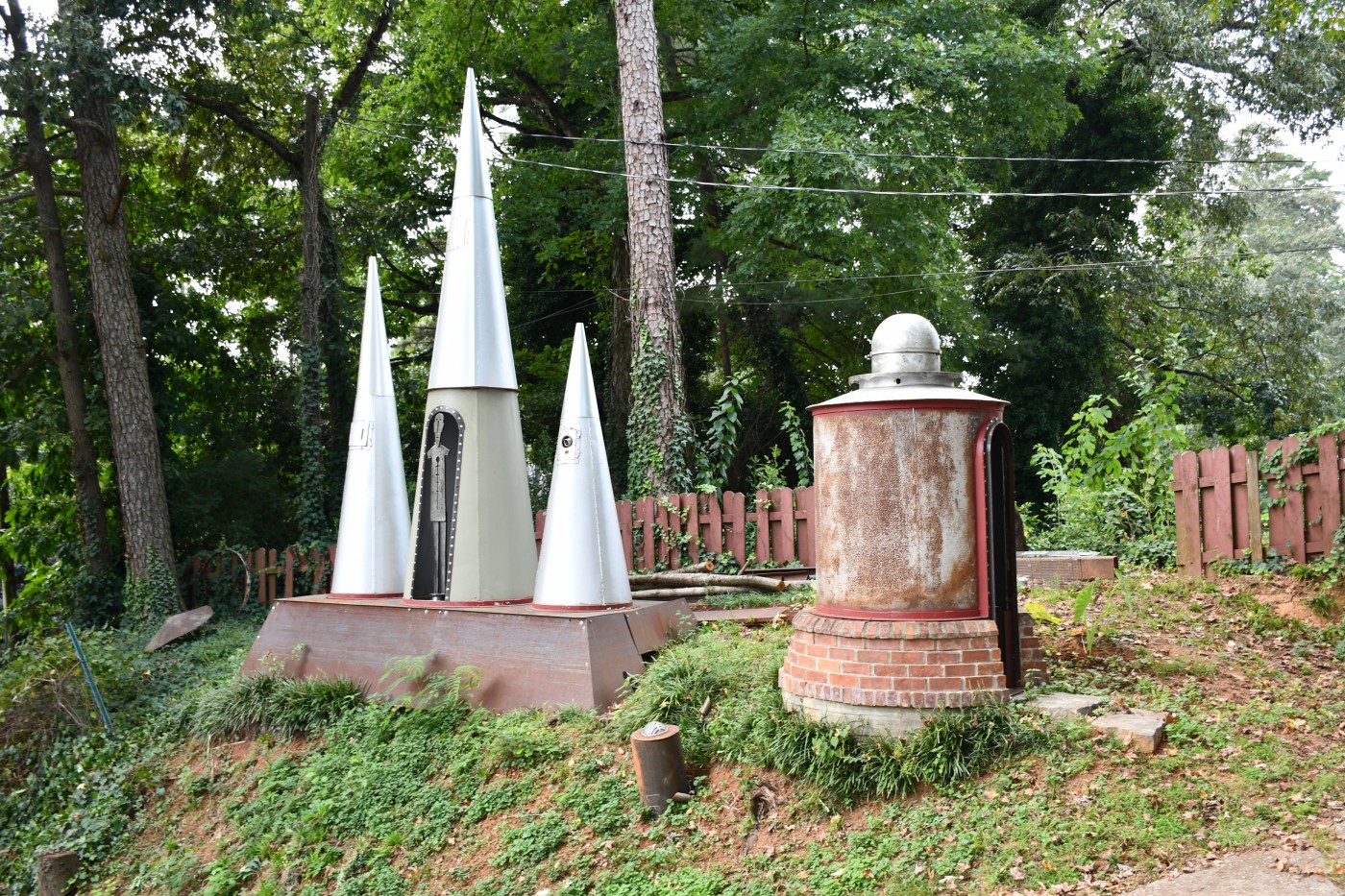 Beth Wiza is the preservation coordinator for Kohler Foundation, a Wisconsin-based non-profit with the mission to increase accessibility to art. She is the resident expert in historic preservation and focuses on the cultural impact of art environments in their local communities. She is an aluma of Savannah College of Art and Design and University of Wisconsin-Whitewater and lives in a charming 1892 farmhouse with her partner, two dogs, and two cats. When she is not elbows deep in plaster restoration, Beth's new hobby is beekeeping.
A few times a year, I visit my dear friend Candace in Atlanta. This past fall (2021), we toured several local art environments and a few other places we've never seen before. Here are the highlights for the next time you're in the area!
Right next to a four-lane highway, the School Bus Graveyard hides behind a large hill. While there are buses high on the hill with graffitied signs, you would never know what lies behind it. We were greeted by the artist/owner and his brother, who own a mechanic shop and junk yard. They, along with other siblings, live on the property in different homes. They stacked the buses to create a fence as a deterrent from potential vandalism. After paying our $10 admission, we walked down the mowed paths past the outdoor art museum. Each vehicle – buses, cars, ambulances, etc. – decorated by artists in the region. Some artists paint over existing murals, while others include their original tags. It's astounding how the owner meticulously stacked cars on top of the buses – as if to form a brick wall. Graveyard may not be the best name for this environment – it's full of life and breathing new art every day.
That same day, we took the short trip to Cleveland, Georgia, to Babyland General Hospital – where Cabbage Patch Kids are born. Nurse Eloise welcomed us in the white columned hospital, which also has a brief history of the famed toy. As you walk through the displays, known as the nursery, you come to the store where you can purchase a variety of dolls (we were corrected and asked to call them babies), clothing, ephemera, etc. Far in the back of the store we see a large faux tree, surrounded by a mound of cabbages, cabbages with doll (baby!) heads, crystals, and large geodes. We learned this is where the "birth" takes place. The "doctors" inject "Imaginciline" to facilitate the birth of the babies in the cabbage patch. They are then taken to the nursery, where they await their adoption. The soon-to-be parent chooses their doll (baby) and goes to the adoption center where they receive the necessary birth certificate and documentation. This place is a must see. [SPACES Note: To learn more about the backstory of Cabbage Patch Kids and how the concept was stolen from artist Martha Nelson Thomas, watch this short documentary by VICE.]
Back in civilization, we visited two major sites in the Atlanta suburb Decatur. The first environment we stopped by is in the Kirkwood Neighborhood – GG's Birdhouse Yard. GG has decorated her yard, her rental property's yard, and the boulevard in front of her home with highly embellished birdhouses. Her work is displayed in groupings, giving the small, found objects a larger presence. All contain multiple birdhouses – some manufactured and some handmade. Surrounding the birdhouses are found objects such as kitchen signs, ceramic figurines, store-bought framed art, string lights, and yard lights. Each grouping of objects gives the impression of an altar or another sacred space. Some are memorials for Black Lives Matter, 9/11, COVID victims, and more. Along her side yard is a 6 foot tall fence affixed with objects, her address, and broken mirrors. (Self-reflection?) Since the artist was not home, we did not go inside the yards, but so much can be viewed from the sidewalk.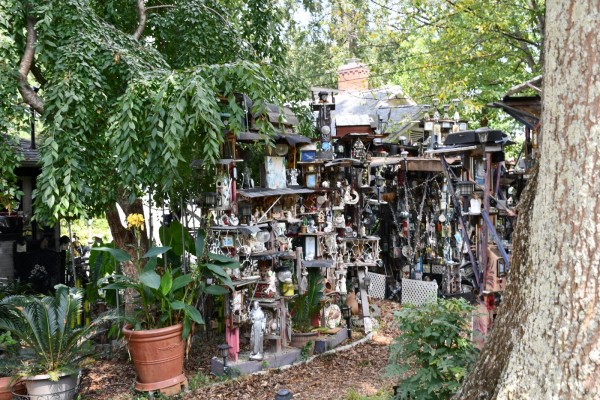 The other treasure in Decatur is on a busy commuter road and is called Druid Hill / The Mechanical Riverfront Kingdom by Clark Ashton. He graciously welcomes anyone to his site to walk around and view his metal sculptures. Clark's work began in 1989 and is part gallery, part performance. Since it is on the main thoroughfare, Clark interacts with the commuters on the street by sitting on his "throne" or moving one of the kinetic sculptures that indicates "plucking" the passersby from their cars. His backyard consists of artistically rendered furnaces, the largest of which took 5 years to complete. History, philosophy, religion, and self-worth are all major influences in his work. Each piece has a purpose and a story. Often, he invites the community to attend his 3-hour performance which explains his thought process, the iconography, and the importance of place within the site. He invited me into his home to view a shortened presentation on the art and his current endeavors. I enjoyed every moment with Clark and later meeting his wonderful partner, Karas. I hope to remain friends with them and see his full-length performance the next time I am in town.