For almost thirty years, Leonard Knight applied brightly colored adobe to this three-story mountainside in the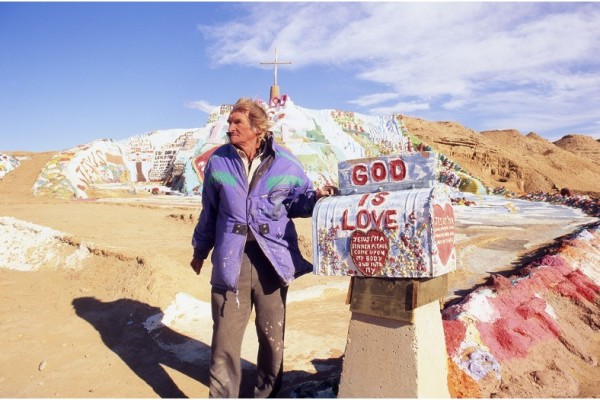 Leonard Knight in 1997 (Courtesy of Robert Foster)
California desert, forming flowers, waterfalls, and rivers to enhance biblical verses that proclaimed his message "God is Love." Hay bales, tree trunks, and various found objects were also covered with candy-colored adobe, forming a complex and compelling masterpiece. He welcomed all comers, and despite his spiritual message, resisted being pigeon-holed by organized religious groups. Initially decried as an environmental hazard and an unauthorized use of state land, in 2002 it was entered into the Congressional Record as a National Treasure.
In December 2011, Knight was moved to an assisted living facility near San Diego, and on February 10, 2014, he passed away. He was 82.
Even before his departure from the mountain, Knight had not been addressing ongoing conservation needs with as much energy and attention as earlier; numerous cracks and peeling, fading paint now mar the Mountain's impact. After Knight was no longer in residence, an ad-hoc group of supporters, drawn in part from his neighbors at Slab City, formed a nonprofit organization with the hope of preserving Knight's masterpiece for future generations, but there remain unanswered ownership questions as well as significant security and stability challenges. Nevertheless, the site remains open, and volunteers are working to ensure its survival in the immediate future.