The Preservation of Prophet Isaiah Robertson's Second Coming House: Part I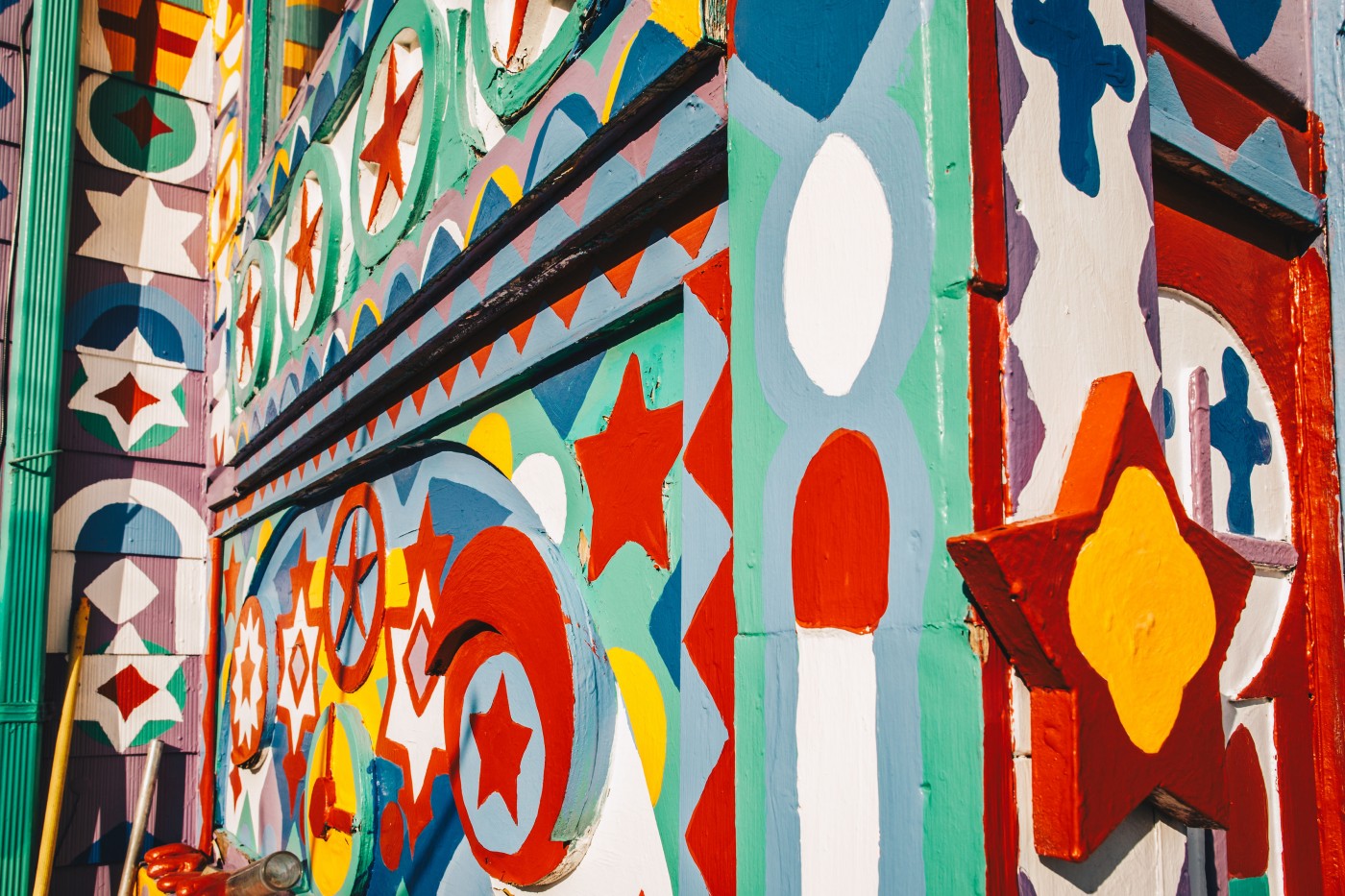 After the passing of Prophet Isaiah Robertson in 2020, the future of his stunning home and
art environment
in Niagara Falls, New York was uncertain. Fortunately, the Kohler Foundation has been able to step in to secure the future of the Prophet's work through supporting site conservation and facilitating a robust community partnership.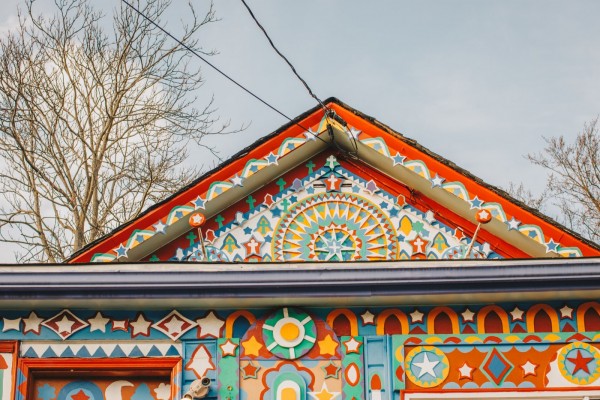 The Kohler Foundation is well known for its commitment to the preservation of art environments. Since their first project, Fred Smith's Wisconsin Concrete Park in 1977, they have preserved more than 15 sites and added to the collections of over 180 institutions. But how does this work?
Like the artists that create them, each art environment and the community surrounding it brings new opportunities to approach the process of conservation, interpretation, and access. These major restorations require many hands to make it possible, and local partners are central to ensuring these projects continue to serve the community in the years to come.
SPACES takes a closer look at just two parts of the process of conserving Prophet Isaiah's Second Coming House — local organizations who become the site stewards (in this case, the Niagara Falls National Heritage Area) and the preservation professionals conserving the Prophet's artwork. In part one, we are thrilled to share our conversation with Ally Spongr, who is leading the initiative to sustain and strengthen community infrastructure around Isaiah Robertson's work.
Ally Spongr is the Director of Public Art for the Niagara Falls National Heritage Area and currently serves as the Interim Director for the Niagara Falls Underground Railroad Heritage Center. With a background in fine arts, history, museums and arts administration, Ally brings enthusiasm for the advancement of Niagara's cultural assets and dedication to the local community. We are so thankful that Ally made time to answer our questions to share her perspective on this process!
What's the relationship of Prophet Isaiah Robertson's Second Coming House to the cultural identity of Niagara Falls?
We've been building ourselves as leaders in heritage tourism, so it was a huge success for us to be approached by Kohler Foundation to be local stakeholders in the project. We've largely chosen to focus investment on the more residential north side of the city— as opposed to the downtown, which tends to get more attention—along with the Falls, which isn't a huge draw for local folks, and we'd like to change that. The Second Coming House is in a neighborhood on a main street and fits in with our plan to focus on the community. We're ready to elevate that work, share it more, and position it as a community asset, alongside the Underground Railroad Museum. Some team members knew Prophet Isaiah personally and continue to be connected to Gloria (Isaiah Robertson's wife). There are people that are familiar with the house, and we think it can be a catalyst to bring in more support for the community—both for art and in general. For example, it could start with art programs and act as a conversation starter to bring in more funding and develop into supporting businesses by highlighting this space created for our community, by a member of our community, and sustained by our community.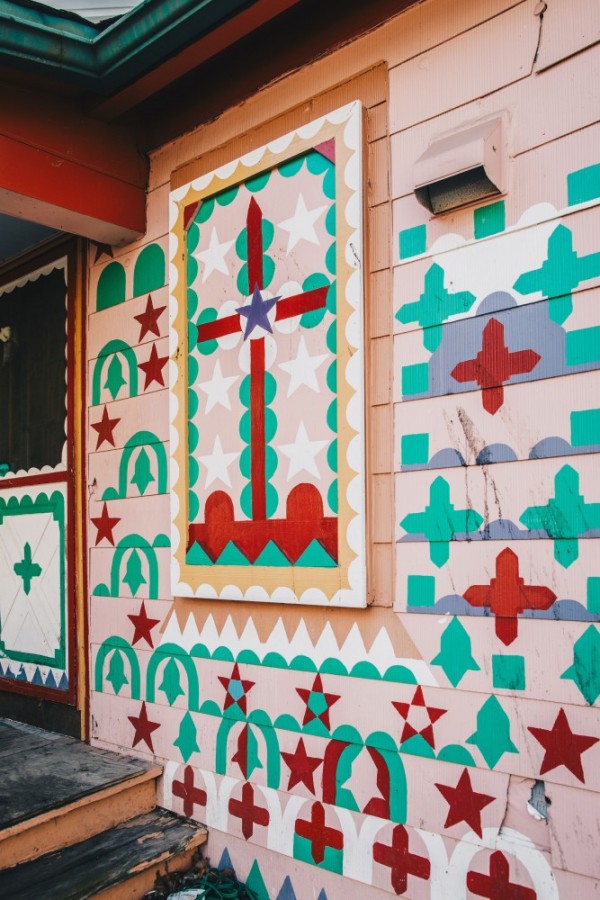 What is the community response to the preservation of the Second Coming House?
The response has been somewhat divisive. We've done a lot to connect with people in front of the house in the neighborhood and on Facebook, which has garnered a lot of feedback. At the house, with people that live there or drive through the neighborhood on their daily commute, we've had a lot of really great conversations. When we had a photoshoot of the house, we had a lot of people that stopped to talk with us. We've tied those conversations to the NF Murals project that took place downtown and was highly community-oriented and focused on sharing the stories of local activists and history of Niagara Falls. That project was heavily driven through our team and other community leaders, with one of our priorities being to feature a selection of Niagara Falls and Buffalo artists, with a focus on POC artists, because they are a majority of our population, and we wanted to make sure that our process was more than simply posting the call and sharing with big institutions. The level of outreach we did for that project has been a huge asset for this project, because most people are aware of the mural project, which has had overwhelmingly positive feedback. When we're able to share that we've been a part of that project, then feedback has been much more open minded.
In Niagara Falls on social media there was a good amount of local attention. People mentioned their love for the site, shared their stories, and posted different newspaper clippings. On the other hand, we encountered social media posts where folks were getting concerned that the site would be destroyed. Our team immediately tried to share the plan and the story. Concern was expressed over the artwork being removed and being relocated outside of the greater Western New York area. One of the most important things about this site is that it is where it is—Niagara Falls. It's part of the neighborhood. The church around the corner has all of Prophet Isaiah's carvings. People pass by it on their daily commutes. I drove past it for seven years. I would like this project to highlight the unique identity that Niagara Falls has – it's own legacy, culture and artists and to recognize those artists as being from Niagara Falls. The space itself is a catalyst for community leadership and change within Niagara Falls, inviting people to meet there and show that it's community-led and community-run.These people are doing amazing things. I am originally from Buffalo but now based in Niagara Falls and find myself advocating a lot to folks from Buffalo about Niagara Falls and the surrounding community. Niagara Falls and Buffalo have such different atmospheres, and Niagara Falls is often overlooked in that. There is a real opportunity to adjust that perception through these various creative projects and how we can highlight and leverage Roberston's legacy to elevate Niagara Falls' charm—hosting more community events and bringing people here to bring these various objectives and voices to a common ground to bring the community together.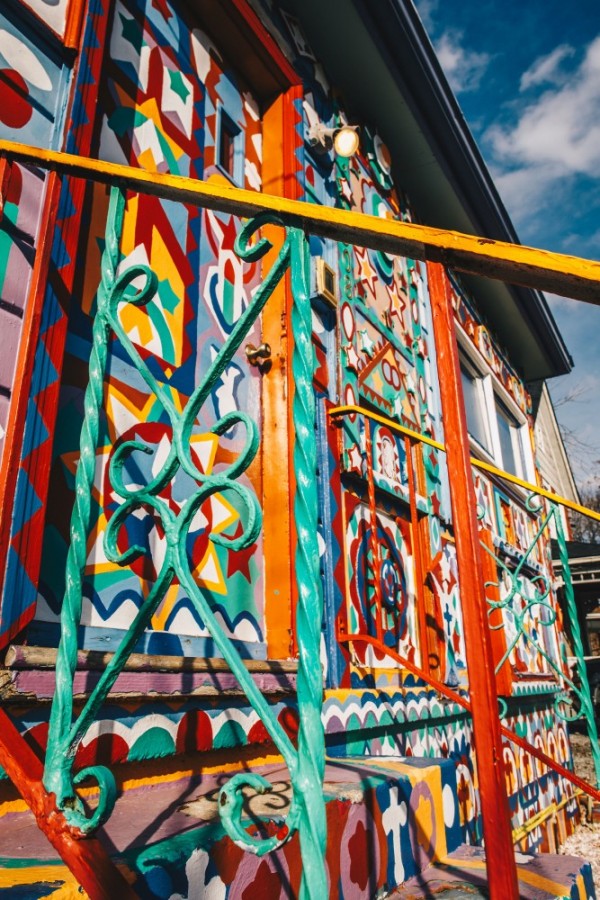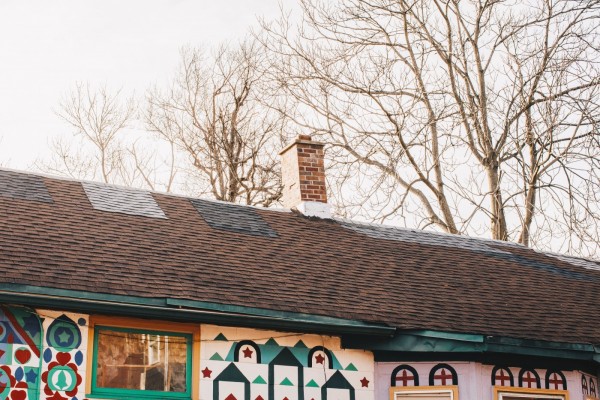 What does the future of the site look like to the NF National
Heritage Area
?
When we started looking at the property, we realized it's really perfect for a community space. It's not too big, not too small, intimate and can comfortably fit 30 people—perfect for a small, community-led event, like a fundraiser, where cost-effective locations are a common issue. Being able to utilize that space for events and programs will help bring people together. It's equipped to do things where people can achieve what they're trying to do without having to rent an expensive place downtown or relocate to a larger, local city. Connecting local leaders like Chef Bobby Anderson, of F-Bites (a program where high school students learn culinary skills and business management) and Cataract House Restaurant & Academy (a restaurant that interpretively connects guests to the Niagara Falls Underground Railroad Heritage Center, where they can learn more about the historic hotel, a stop on the Underground Railroad that employed Black waiters, many of whom had escaped slavery), will help bring folks in that might not be familiar with the space like they might be with something directly downtown. We are really looking forward to what events will be held in the backyard area, too. When the site transfer is complete, one of the first events we hope to have is a community clean-up for the backyard. We want to invite volunteers to tidy up, haul out the scraps, help shape, and clear out the area. We plan for the foundations to be kept to provide space for music, art, food, and events. We want to expand the backyard sidewalk and add a ramp in the back for greater accessibility, and freshen up the space with new fencing and repairs. We hope to have this be a place for artist residencies, too. It could provide a working space for artists and maybe a live-in space for artists. We're hoping this will be a springboard to more easily allow other projects to flourish. We look forward to balancing the space with public opportunities so our community can really take advantage of this place.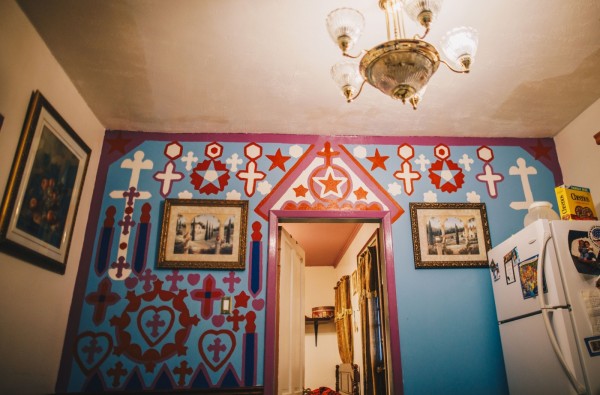 Read Part II that focuses on site preservation with art conservation professionals from B.R. Howard!
More from the Niagara Falls National Heritage Area:
All images are courtesy of Alana Adetola Arts Photography.
Ally Spongr was interviewed by Jen Balge for SPACES on March 16, 2022. The interview has been edited for length and clarity.