Painting in Progress: An Update from Rock Star Meadow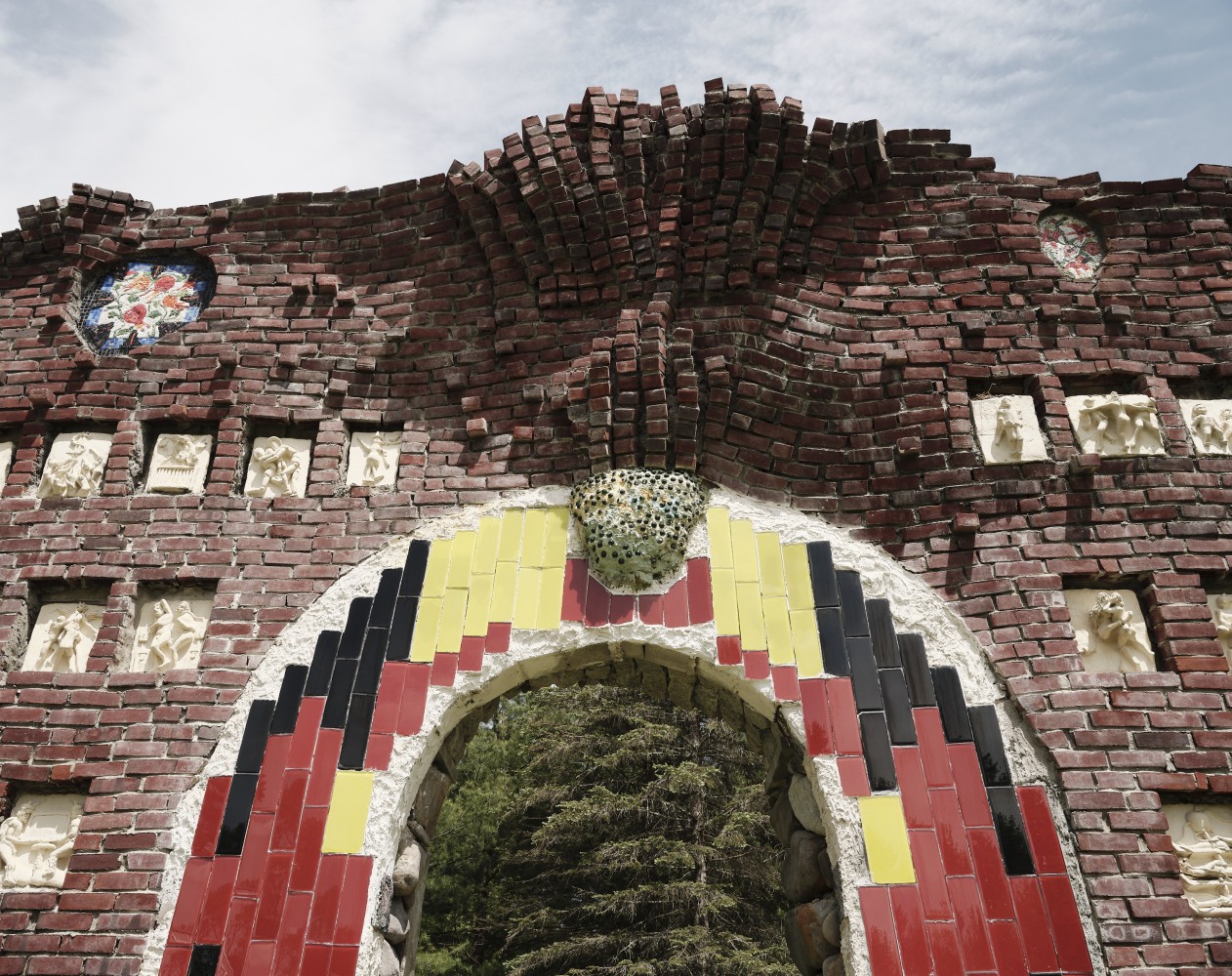 Rock Star Meadow is a complex of improvisational structures embedded with all forms of creative work installed in a quiet clearing at the foot of a mountain near Woodstock, New York. Nick Della Penna established this site in the early 1980s and was soon joined by creative partner Estelle Ross who passed away in 2016. We spoke with Nick in May of 2022 to learn more about the site and his current work.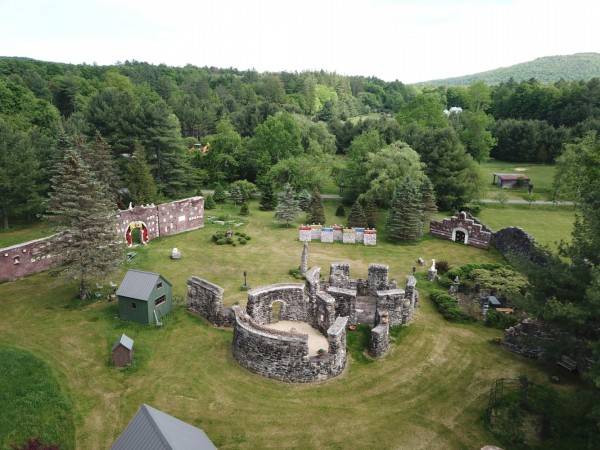 Rock Star Meadow, 2022. All photos by Bryan Whitney.
What does your current work at Rock Star Meadow look like? What type of work is most exciting to you right now?
During the winter I work indoors, modeling clay and making mosaics. This winter I did reliefs in stoneware which celebrate Estelle and I collecting stones and building our first wall. Another is a portrait of my granddaughter in stoneware. I incorporated it all into the main brick wall on the meadow, which holds dozens of reliefs. All the reliefs tell a story. Also, this winter I completed a 4x6 foot glass mosaic. It's a concept I've thought about for a long time. It depicts my granddaughter and cell phone addiction.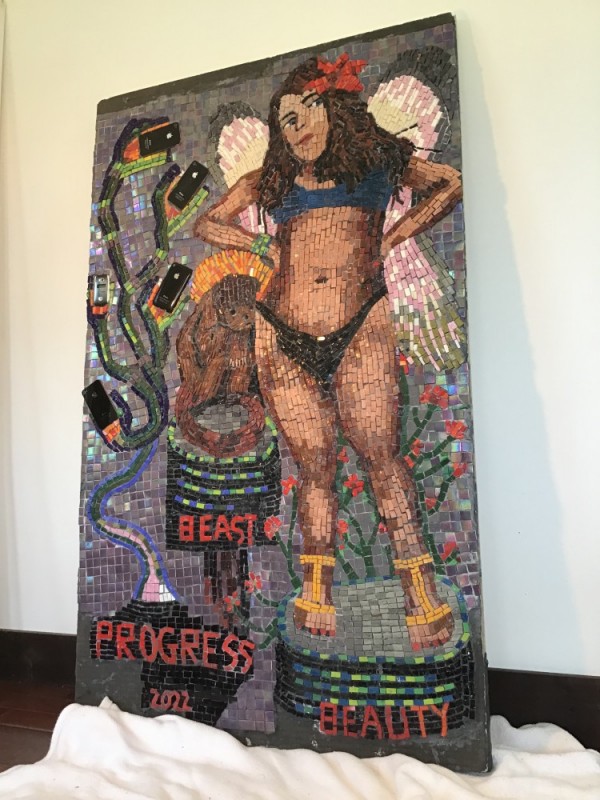 Your work has been described as a "long term improvisation." Are you still working day to day, or do you have any planned projects or pieces?
Yes, I do work every day, and whatever I'm working on, feels the most exciting to me at the time. When I look back at my older work, it seems remote, as if it were done by someone else.
The piece involves several different materials. Tell us about your interest in the materials you work with/ what that experimentation is like for you.
I look at Rock Star Meadow as a massive painting in progress. I look and I look again, and I respond to what I think it needs. There is no grand plan, just listening to the voice that urges me on to work.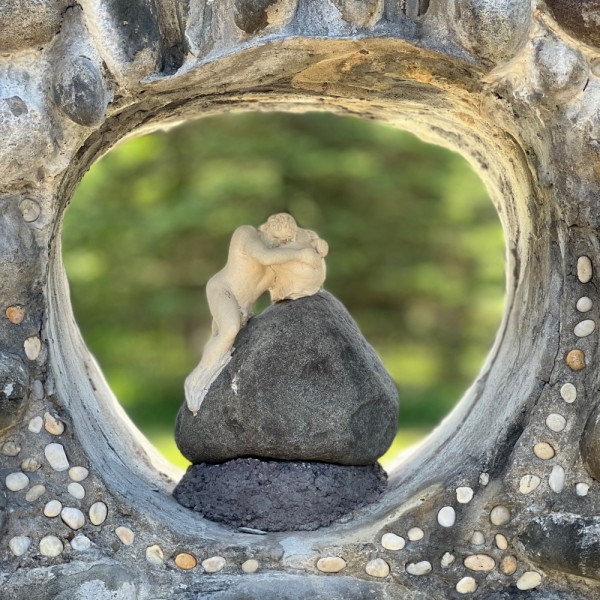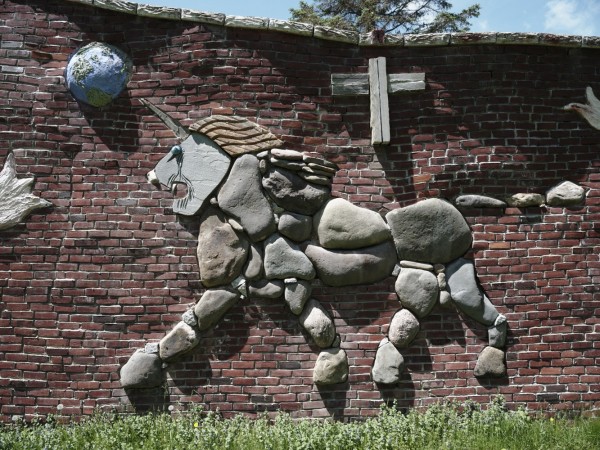 Rock Star Meadow appears to be perfectly situated in the landscape of your home. Can you talk about your work's relationship to the land?
I began building Rock Star with just local stones. I found the process of stacking stone invigorating, but after some time (years), I felt I needed something more, so I turned to red brick, giving me a new texture and color to work with. They both work well together, and the white stoneware reliefs have become highlights within the stone and brick.
Since I used to paint, I started to think the meadow needed more color. So I made several mosaic portraits. I like the delicacy and vibrancy of colored glass in relation to the stone and brick. Most recently, I went beyond the accessible and turned to white marble and taught myself to carve. I was impelled by a romantic impulse. My reading of art history was a big influence.
The land I have is a meadow, and a mountain looms up several hundred yards beyond its southern border. This is what enticed me to build the first stone wall. Stones along the streams were everywhere, and a passion for collecting these river rocks grew. I was unconsciously inspired. I began to mimic the shape of the mountain in stacked stones.
As time went on, and years passed, I was also inspired by the memory of the sets from old movies, the ones I saw in my youth (arches, pillars, brick niches, and stone floors). I also wanted to convey a sense of the spiritual, as one does in a temple or a church. I feel blessed and compelled to work – by who or what, I do not know.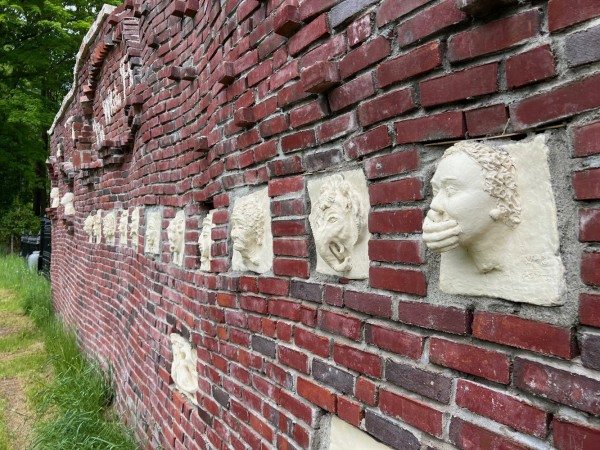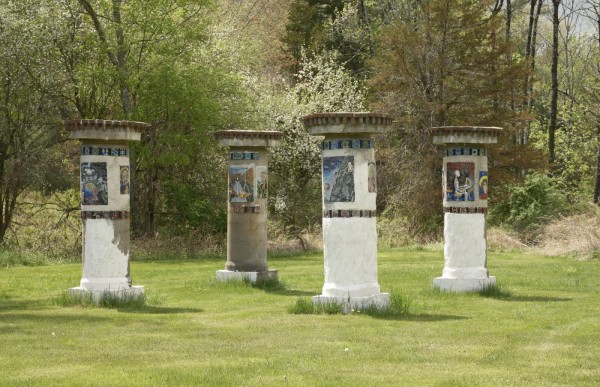 Rock Star Meadow is in an area rich with artistic activity. Byrdcliffe, one of the earliest arts and crafts colonies in the country, is just six miles away, and Opus 40 is just a bit further than that. How has being in this community influenced your work? How do you think your work has influenced the community?
I feel fortunate to be able to do my work in this renowned art colony. Woodstock, New York, is home to many artists, musicians, and art lovers – many who are also filled with their own dreams. And being part of such a collective energy spurs me on. It drives me to do the best I can. Woodstock is a place that allows you to be yourself, without interference. So far, the community's reaction has been one of curiosity and quiet respect.

Hoping to plan an art-filled roadtrip in the Catskills this summer? Rock Star Meadow is perfectly situated for a route that includes two other environments – the
Brunel Sculpture Garden
(8.5 miles away) and
Opus 40
(10 miles); two members of the Historic Artists' Homes and Studios Program –
Olana
(33 miles) and the
Thomas Cole National Historic Site
(30 miles); and the world-renowned sculpture park
Storm King Art Center
(55 miles). For even more, check out the
Hudson River School Art Trail
. Happy travels!
To plan a visit to the Rock Star Meadow, call 845-684-5646 or send an email to
rockstarmeadow@icloud.com
. The site is open to visitors every day during daytime hours.
Interview conducted via email by Annalise Flynn, May 26, 2022