'Singular Spaces' Exhibition at the Fowler Museum, UCLA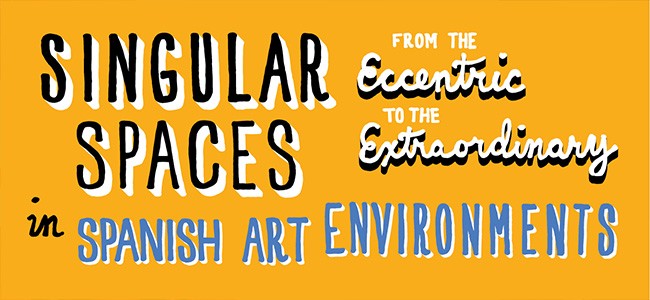 We're pleased to share news of the upcoming Singular Spaces exhibition at UCLA's Fowler Museum, featuring photographs by SPACES Executive Director Jo Farb Hernández which document eight self-taught artists from across Spain. The exhibition, which opens on April 12, and runs through September 6, 2015, explores Hernández' extensive study of Spanish environmental artists — she crisscrossed Spain from 2000-2014, traveling tens of thousands of kilometers to meet and interview artists and document their work.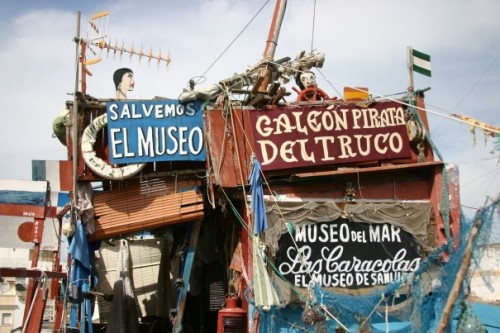 José María Garrido (1925-2011) Rooftop terrace, Museo del Mar, with protest signs Photo: Jo Farb Hernández, March 2009
Comprised of intriguing and idiosyncratic sculptures, gardens, and buildings, the artists developed environmental sites organically without formal architectural or engineering plans. Often highly fanciful and colorful, the sites are frequently characterized by incongruous juxtapositions. This is the result of the artists finding inspiration in their surroundings and making do with what is available. The environments these artists create become a visual cradle-to-grave accounting of how their creators have spent their lives and what was important to them.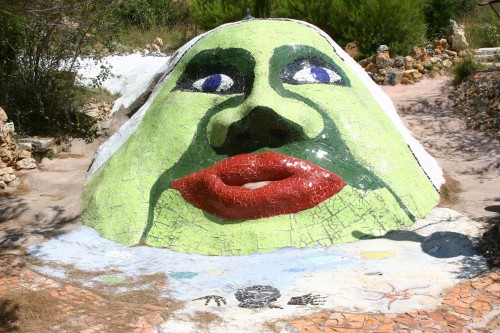 Peter Buch (b. 1938) Building in the shape of monumental head, El Jardi de Peter Photo: Jo Farb Hernández, August 2011
Featured artists include José María Garrido, Josep Pujiula, and Francisco González Gragera, among others. Hernández says of the exhibition:
"I wanted to break down the compartmentalization of genres and reveal how these artists fuse their creations with daily existence in a way generally unmatched in the art world. The sites show complete commitment to the work and serve as a self-reflection of the maker's life and concerns."
On Thursday, April 16, at 7:30 pm at the Fowler Museum on the campus of UCLA, Hernández will discuss her photographic survey of these elaborate fanciful art environments and idiosyncratic sculptures of self-taught Spanish artists. Hernández, who is a professor at San Jose State University and Director of the University's Thompson Art Gallery, spent close to fourteen years researching this project and writing the almost 1200-page book complementing the exhibition. A 6 pm concert of Spanish guitar music and light refreshments precedes the talk. RSVP to the event on Facebook.