SPACES Honors Lyn Kienholz, Trustee Emerita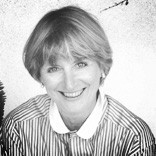 It is with profound sadness that we announce the passing of our Trustee Emerita, Lyn Kienholz, who died at her home in the Hollywood Hills on January 25, 2019. She was 88 years old.
A forceful arts advocate, Lyn was involved in the nascent postwar art scene in Los Angeles as she worked at the seminal Ferus Gallery and married artist Ed Kienholz (1966-1973). She met SPACES founder Seymour Rosen at the Ferus; he served as their staff photographer, documenting the exhibitions and installations of the then-unsung artists who would go on to stretch the definition of contemporary art in the 1950s and '60s. Lyn felt strongly that California artists hadn't received the visibility or support that they deserved, and she founded the California/International Arts Foundation to remedy that lack; under the auspices of the C/IAF she organized and curated several exhibitions in Europe, including at the Pompidou Center for the Arts in Paris. She famously crossed genre areas in both her advocacy and her curatorial practice, championing self-taught artists as well as those with formal academic training in her exhibitions and publications.
Following Rosen's death in 2006, Lyn reached out to me and supported our early fight to ensure that all of the materials in SPACES archives were maintained together, so that they could be studied and understood in the holistic way that Rosen had approached all arts and cultural expressions. She formally joined our Board in 2006, providing wise counsel and support over that difficult transition. Lyn's great gift was the ability to foster connections among individuals who might not otherwise come into contact with each other, and some of the folks that I met through her - most connected to the mainstream art world rather than our own more circumscribed sphere - became and remain staunch supporters of SPACES to this day.
Donations in Lyn Kienholz's memory may be made to SPACES; please contact me at jfh@cruzio.com for further information.
Jo Farb Hernández