SPACES Interview with Filmmaker Allie Light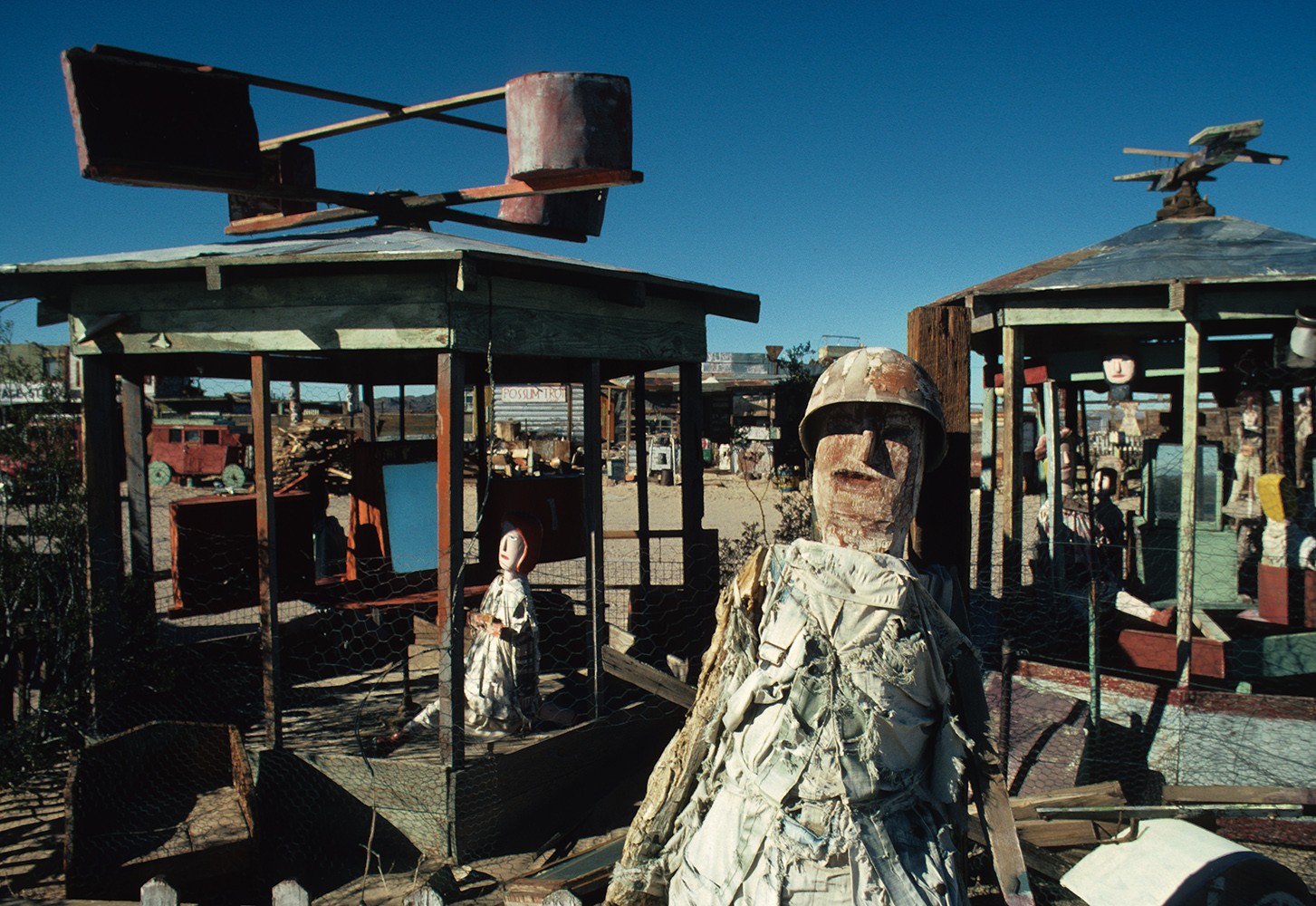 SPACES was recently able to speak with Allie Light of Light-Saraf Films, the creators of the widely beloved series of films on self-taught artists called Visions of Paradise featuring the work of Calvin and Ruby Black, Harry Lieberman, Tressa Prisbrey, Chief Rolling Mountain Thunder, and Minnie Evans. Light and her partner Irving Saraf (who passed away in 2012) went on to create many more films, including In the Shadow of the Stars which earned them the Academy Award for Best Documentary Feature in 1991. Light has served on the Media Advisory Panel for the National Endowment for the Arts and is a member of the Academy of Motion Picture Arts and Sciences and the Academy of Television Arts and Sciences. She lives in San Francisco.
How did you and Irving first become acquainted with the world of art environments?
Our first exposure to folk art was my accidental finding of Possum Trot. I had no idea what I was looking at as we drove past Calvin's doll windmills in the Mojave Desert in California. I stopped, backed up and then went up to talk to Ruby Black, sitting on the porch. I said, "What is this place?" She told me. This led to the five films that are Visions of Paradise.
To read about this first encounter with Possum Trot – see Light's journal entry

here
.
I saw Seymour's slides of Bottle Village when I was in graduate school [studying Interdisciplinary Arts at San Francisco State University]. We were there filming in a very short time. After the film came out, Seymour contacted us. He always had suggestions who we should film next, but we had pretty much made our choices from a book that Ruby Black had in their house on folk artists called Twentieth-Century American Folk Art and Artists by Julia Weissman and Herbert Waide Hemphill, Jr. We stayed in touch though, and when Seymour was in San Francisco he would come by to say hello. He liked our films a lot, and we liked him and respected his work.
People love the Bottle film, and it was a lot of fun shooting it and putting it together. But I think that Possum Trot is the favorite of more people. That film has world-wide fans. It was requested last year by a festival in France and shown to a sold out house. I heard from lots of folks, and it was then requested for a festival in England. I am so glad that the American Visionary Art Museum took the films. [See statement from AVAM below.] I've done nothing in the way of marketing them since Irving's death in 2012. They will get them back into the world, and that makes me very happy.
What struck you the most about art environments and their makers?
I didn't know what to think about art environments, except that they were one person's creative process and obsession. I saw Possum Trot as specifically individual to one person and not as part of an art movement. This idea was reinforced when Irving and I took slides of Calvin's work (dolls, windmills, signs, outbuildings) to the Oakland Museum of Art and, upon looking at them, a curator said that they weren't art and should be burned. This woman's negative response helped us decide to make the film.
What was the inspiration for Visions of Paradise?
Irving and I got married in 1974, and we went to Possum Trot on our honeymoon. We shot enough footage to make a fundraising segment. We got a small grant from the NEA (National Endowment for the Arts) and returned in March to shoot the film. We were both teaching then, and we brought our film students to help. We had seen a book on folk art in Ruby's store. I ordered the book and when we decided to do a series, we found the other artists in this book. We hoped that our series would find a place on public television, and though individual films from the series were sold to individual public stations, the series was never shown as a whole. We were just too early; folk art wasn't popular, though it became so later. Possum Trot has probably been seen the most and was shown on the Seattle public channel. Harry Lieberman was popular in New York. Minnie Evans is totally loved in North Carolina and has been on their public television station.
We were in contract to sell Bottle Village to Ripley's Believe It or Not, but they broadcast it before the contract was signed, so they had to pay us three times what they had offered. We always felt sad that the complete series was never shown together. People would love seeing it today.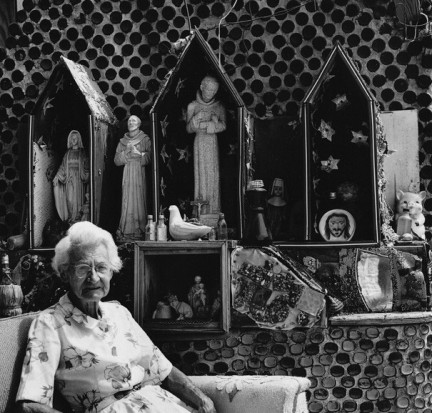 Photo by Seymour Rosen
When you visited the sites and met their makers, did anything surprise you? Do you have any favorite anecdotes regarding the making of the films?
What surprised us the most when we first met these artists was how much more there was to their lives and how eagerly they were to tell us about themselves. Possum Trot was the only film where the artist had already died, but Ruby told us very private things about Calvin from his earliest days as a child making corn cob dolls and sewing their clothes from scraps his mother gave him, to his days working carnivals. Minnie Evans told us family secrets until her sons told her (on camera) to stop. She referred to herself as a "bush baby" and an "outside child," meaning that she was born to an unwed mom. If people had second thoughts about what they had said, we never included their secrets in their on-camera interviews. We enjoyed making these films, had fun with the families, and stayed in touch with them until they died.
Did you have any lasting relationships with the artists featured in the film?
Our artists are now long gone, and we haven't stayed in touch with other sites. We were members of Ann Oppenhimer's group The Folk Art Society of America for a long time, but not now. We have a long relationship with John Turner, in fact we tried to raise money to make a film about Finster, but were unsuccessful. Our enduring relationship has been with Rebecca Hoffberger. We loved what she did, and once, wearing hardhats, we stood on the roof of AVAM as she was having it built. I know how pleased Irving would be that her museum now has our films.
How have the interpretations of and reactions to this type of work changed since you and Irving created these films?
From the fifty years between one museum telling us that Calvin's dolls should be burned to the opening of huge exhibits of folk art (Darger) change has certainly occurred. There is more interest in, and love for, the art form. We bought a Possum Trot doll when Ruby died and sold it about ten years ago. What we paid for it and what we sold it for doubled nine times. Our doll is now owned by the American Folk Art Museum in New York.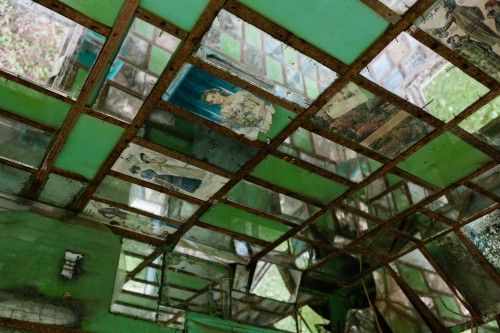 As mentioned in the interview above, Light gifted the entire Visions of Paradise series to the American Visionary Art Museum in Baltimore, Maryland. Here is AVAM Founder and Director Rebecca Hoffberger's statement regarding this exciting acquisition:
Simply put, the five-feature Visions of Paradise series created by Academy Award-winning Allie Light and her late husband, Irving Saraf, are THE BEST documentary capture of the spirit and work of visionary artists I've ever seen. In just 28-minute formats, they flesh out their subjects with more love and far more vividly than any 2-hour films I've seen. Allie is such a wise and intuitive genius about human condition—warts and glory, both. Superb storytellers, their documentary films endure to capture artists and their creations at the zenith of expression—physical visions, sadly, that have since too often been lost, vandalized, looted, or destroyed. The Light-Saraf series constitutes a priceless and exquisite archive. (Bravo to SPACES for all their kindred spirited salvage and preservation work.) Allie recently and generously donated the film series in its entirety to the American Visionary Art Museum. The gift from our beloved friend constitutes a priceless and meaningful jewel of our permanent collection.
Rebecca Hoffberger, founder and director, American Visionary Art Museum
Interview conducted by Annalise Flynn via email September 2020