SPACES Mourns the Passing of Indian Artist Nek Chand
Nek Chand, creator of the Rock Garden of Chandigarh in India, died on Friday, June 12, at the age of 90. Mr. Chand started building his beloved ‪Rock Garden in 1957—a breathtaking work that spans 40 acres, and is built entirely of discarded materials.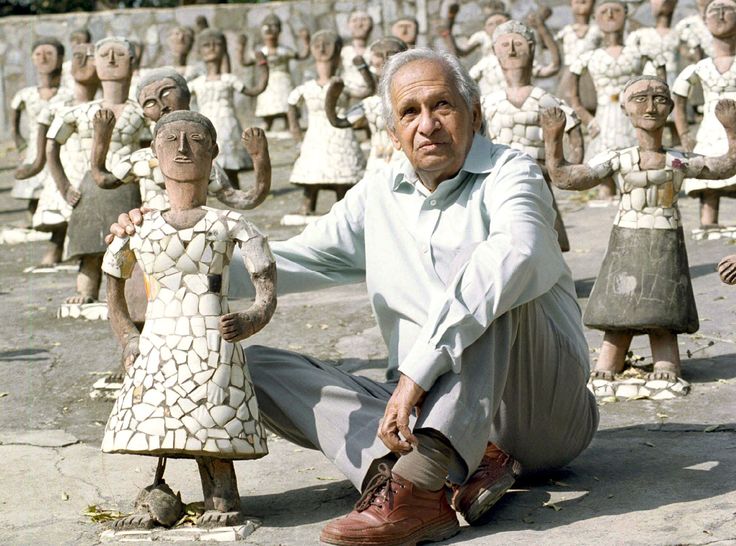 Mr. Chand at age 76. Image via Reuters.
Mr. Chand‬ built the ‪Rock Garden‬ of Chandigarh as his vision of the divine kingdom on Sukrani on a land conservancy gorge near Sukhna Lake. In 1975, at around 13-acres, his guerrilla artwork was discovered by authorities and was in danger of being demolished. Thanks to the public's advocacy, in 1976, it was designated a public space, and Chand was given a title (Sub-Divisional Engineer), and a salary to continue building and maintaining it, along with a workforce of 50 Laborers. The now 40-acre site is visited by 5,000 people daily, and is one of the country's most popular tourist destinations.
The New York Times, in an obituary for Mr. Chand, recalls the artist's beginnings:
"The creation story of the Rock Garden has the tenor of a local epic. Mr. Chand was born Nek Chand Saini on Dec. 15, 1924, in the village of Barian Kalan, which became part of Pakistan after partition. He was newly arrived in the city of Chandigarh just after India's independence in 1947. He worked for the government as a road inspector, according to the Department of Chandigarh Tourism website. But, Ms. Bajaj said, he became fascinated by found objects, including weather-beaten rocks.

"I started building this garden as a hobby" in the 1950s, he said in an interview with Agence France-Presse in December. "I had many ideas, I was thinking all the time. I saw beauty and art in what people said was junk." By night he slipped onto a patch of land and artfully arranged rocks and construction waste behind a barricade of empty tar drums.

"The beautiful stones he set aside, and then he would set them up like a jeweler," said Ms. Bajaj, who was introduced to the sculptures in 1972, when, she said, the garden was still something of a secret. "When Nek Chand would pick them up and put them in a particular way, suddenly you could see, my God, this is a woman with a child."
We at Saving and Preserving Arts and Cultural Environments (SPACES) remember the important work and legacy of Nek Chand, and are thankful for his contribution to India and the world-over. Mr. Chand's Rock Garden is an inspiring example of a people and their government not only supporting and sustaining a self-taught art environment, but articulating it as a valuable cultural marker in the region:
"It has made Chandigarh complete," said Rupan Deol Bajaj, a retired bureaucrat from Punjab who has been an advocate of protecting the garden. "It has given a soul to the city."
Below, enjoy a video on the on-going conservation of the Rock Garden of Chandigarh. If you have images of, or documentation on Nek Chand's Rock Garden, and would like to submit that detail for the Rock Garden page on the SPACES Archives Online Collection, please contact us HERE.