Join Isaiah Zagar at the Philadelphia Magic Gardens as he rings in 80 years!
After a week of celebratory programming, the Philadelphia Magic Gardens is throwing a party to celebrate Philly's Mosaic Man, most reknowned for the Magic Gardens, though his work can be seen on over 100 other buildings around Philadelphia, including The Painted Bride, a mosaic building facade in the news over the past year as supporters of Zagar's work put forth effort to historically designate after the current occupant annouced they would be vacating the building -- putting the work in potential jeoprady. (Read a response on the denial of the designation here: A Letter From Emily Smith)
On Monday, the gardens will be serving cake and raffling off an original Zagar mosaic to celebrate his birthday. Zagar will be in attendance, along with PMG director Emily Smith. Attendees there from noon until 1:00 p.m. will also have a chance to see the 75-pound Mummers suit that Zagar mosaicked in collaboration with the Golden Sunrise NYA
Spanning half a block on Philadelphia's famous South Street, Philadelphia's Magic Gardens (PMG) includes an immersive outdoor art installation and indoor galleries. Zagar created the space using nontraditional materials such as folk art statues, found objects, bicycle wheels, colorful glass bottles, hand-made tiles, and thousands of glittering mirrors. The site is enveloped in visual anecdotes and personal narratives that refer to Zagar's life, family, and community, as well as references from the wider world such as influential art history figures and other visionary artists and environments.
For more information, visit www.phillymagicgardens.org.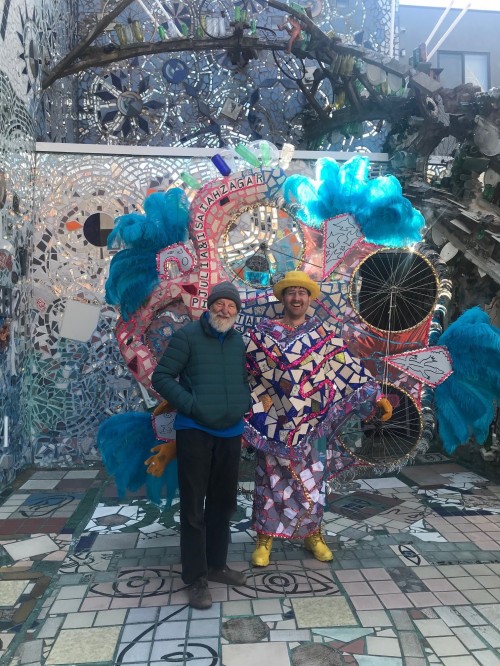 See more of Isaiah Zagar's Magic Gardens on SPACES!