"Out of Office" Forever with Ann Gappmayer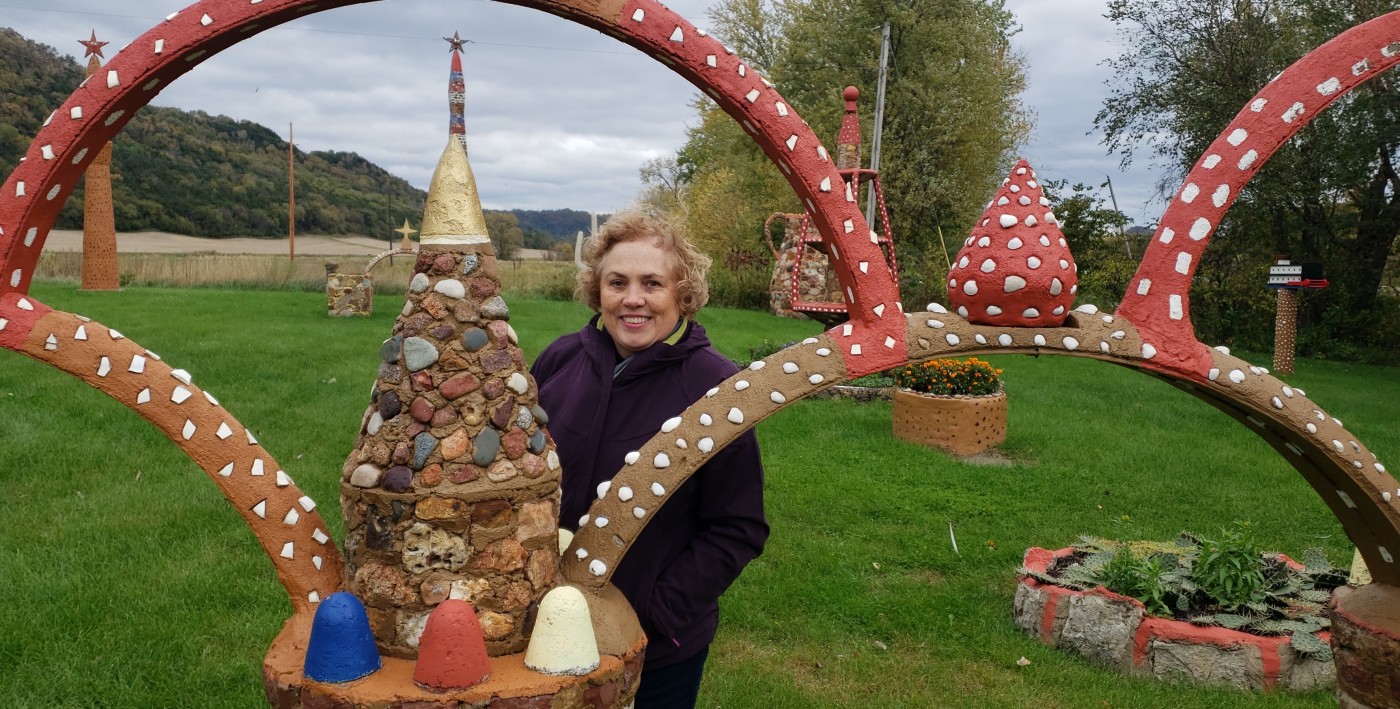 Ann Gappmayer has worked as archivist for the SPACES Archives since 2017, but has recently started a new adventure—retirement! She took a moment to reflect on her time and the projects she supported; the transfer to Kohler Foundation, the Howard Smith Collection, and the acquisition and digitization of hundreds of slides, images, ephemera, and resources from contributors like Gregg Blasdel, Willem Volkerz, Roger Manley, and many more.
Tell us about your work for SPACES. What have been your biggest priorities? As you sorted through all of the SPACES materials, what were your most interesting discoveries?
First of all, it has been a fun experience for me exploring these archives and getting to "know" these artists through their works and writings. I have seen some amazing and interesting environments. I first started here in 2017, right after the Archive came to the Kohler Foundation. My focus was on getting the library catalogued and arranged in a way that was searchable and manageable. When that was completed, I turned to organizing the files on artists, environments, institutions, and exhibitions. I am so glad Seymour Rosen, the founder of SPACES, had the foresight to start documenting and saving things related to these environments and other ways people express themselves. I am thankful to live in a world that is so diverse, where there are so many interesting people who express themselves in so many different ways. I feel a majority of the artists SPACES has documented are not people who made this art for the praise of the world but rather were seeking ways of self-expression and beautification or ornamentation of the world in which they live. Many times they just are compelled to create art and decorate their environments. This may be a way of having some control over their environment, but the result is thought-provoking, interesting, and oftentimes both beautiful and head-scratching.
Another thing that has been interesting for me to observe is the fact that most of these artists are opportunists. By that, I mean they take advantage of the materials that are available to them without too much difficulty through collecting, scavenging, donations, etc. This means they create beautiful and interesting environments through materials such as chicken bones, driftwood, beer cans or bottles, shells, rocks, garbage, dolls, fabric, ink, glitter, sequins, and any other materials they find. Then what is so interesting is the thought process of taking these items and creating something unique and different. It has been a fun adventure for me to discover these artists and what they create.
What's your favorite environment you've visited and why?
My husband and I have had the privilege to explore some of the art environments in this country. A couple of my favorite environments are right here in Wisconsin. I think the Mary Nohl home in Fox Point, Wisconsin, is one of my favorite places to be. I love that Mary was so disciplined about her work. Mary had 5-year diaries in which she recorded what she did each day, every year. Mary wrote so small that it was hard to make out her writing without a magnifying glass. Anyway, she was very meticulous about her work and scheduled her days very carefully. She would devote say two hours to painting, then one hour to sculpture, then ceramics, and so forth. In her journal she talks about someone who was interested in dating her, and she liked him but broke off the relationship because it took too much time away from making art. Mary is an inspiration to me because she created from so many mediums and brought humor and whimsy to her work.
Another environment that I really enjoyed seeing was Fred Smith's Wisconsin Concrete Park in Phillips, Wisconsin. When Fred retired from lumberjack work, he devoted his time to creating figures with concrete and decorating them with broken pieces of glass bottles and other found objects. I enjoyed seeing his creativity in the execution and ornamentation of such large sculptures and bas reliefs.
There are many more environments that I have enjoyed visiting; some are fairly small and others take up several acres like Pasaquan in Buena Vista, Georgia. These environments and artwork leave you with a sense of wonder, amazement, and joy at being able to experience them. It is always so nice to be able to get a small glimpse into the souls of the artists through their creations.
What are your top environments you hope to visit in the future?
The one environment I would like to be able to see some day in person is Nek Chand's Rock Garden in Chandigarh, India. I have seen so many images of Chandigarh that it would be fun to be able to experience the acres of sculptures and gardens Nek built in person. Something to look forward to as I leave Kohler Foundation and my work as archivist for SPACES is the appreciation of the beauty and inspiration that can be gleaned in our amazing world and the people who leave something of themselves for others to enjoy and learn from. I will always treasure the experiences I have had here and the things I have learned and seen. It has been great!
Thank you, Ann, for spending the last years of your professional career with SPACES Archives! We are grateful to have worked with you.