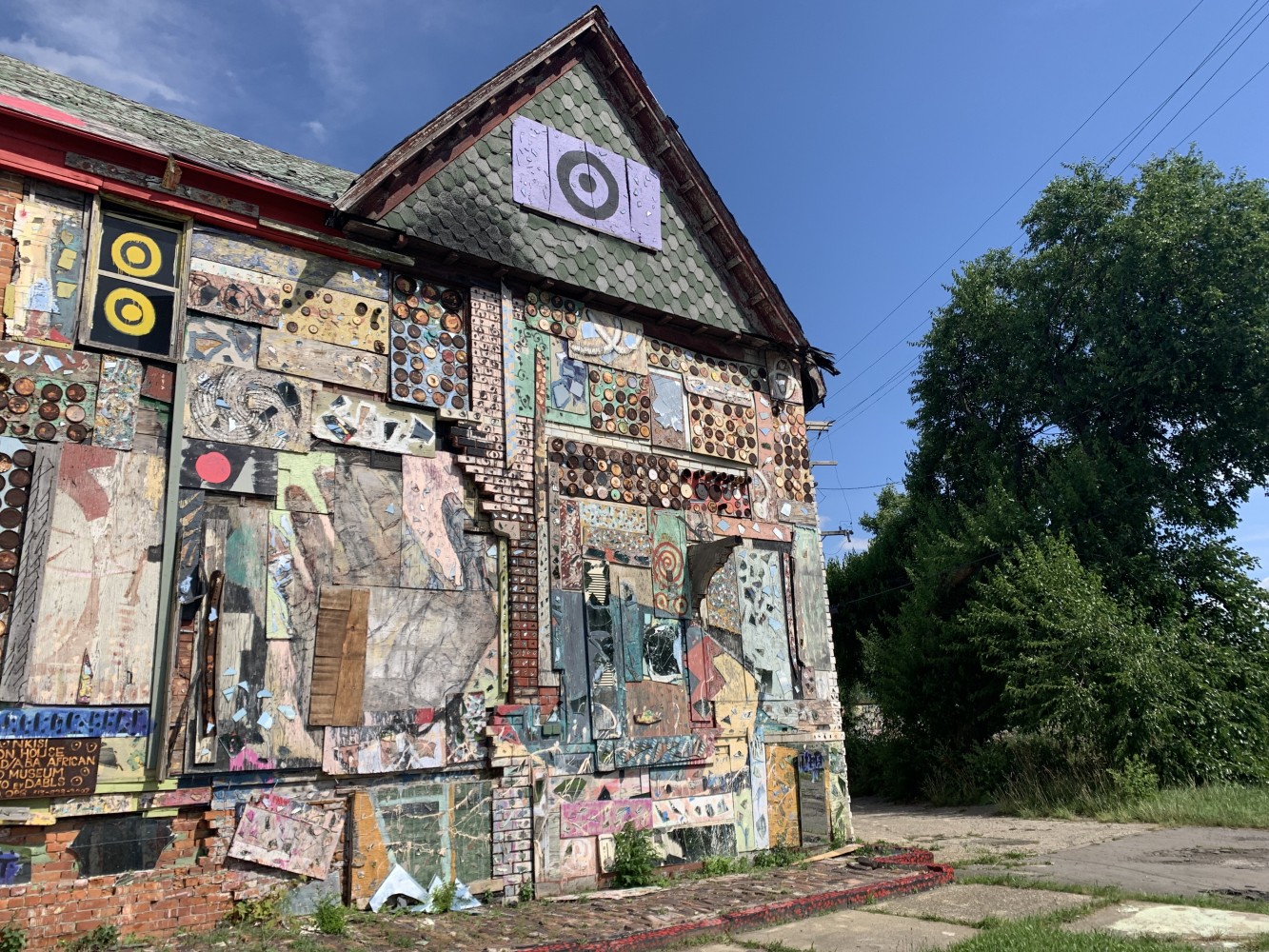 After more than a year of virtual travels, I had the distinct pleasure of sneaking in a trip to Detroit this summer – post-vaccine and pre-Delta exploding across the country. Detroit is a cultural destination widely appreciated by seekers of U.S. automotive history, Diego Rivera's populist murals, the music of Motown, and more. Lesser known, perhaps, is the city's incredible wealth of artist-built environments – each of which helps tell the story of this dynamic and complex American city.
My first stop was The Heidelberg Project by Tyree Guyton. The President and CEO of The Heidelberg Project, Jenenne Whitfield, generously spent the better part of a day with me, giving me a thorough tour of the acclaimed environment and letting me in on their ambitious plans for the future. The Heidelberg Project was always a community-centered endeavor, and now the organization is planning for even more robust outreach, including an expanded arts campus in the quiet, leafy neighborhood.
While a 2019 New York Times article described the site as being "taken down," as of this July, the environment was very much intact and thriving – though very neatly organized and perhaps a bit more sparse than in previous iterations. When asked about dismantling the site, Guyton used the elevator as a metaphor – he had ridden up 35 floors (one for each year of the project), and now he was riding the elevator down and stopping at each floor to look around and see what he'd learned. Perhaps when he reaches the bottom, he'll take another trip to the top?
As part of our afternoon together, Ms. Whitfield also took me by the Dabls Mbad African Bead Museum. When I returned to the site alone the next day, Dabls graciously took some time to explain the metaphorical significance of the complex of wood, rock, iron, and mirror sculptural installations arranged on the city block adjacent to the Bead Museum. The largest structure – the N'kisi House – is covered in a kaleidoscope of colors, textures, and materials. Be sure to give yourself plenty of time to take it all in.
The African Bead Museum is another institution built with community in mind. An expansion of the site to support public exhibitions, art education, and more is currently underway – learn more here.
Another resident artist of Detroit's East Side is Carlos Nielbock of C.A.N. Art Handworks. A specialist in historic architectural ornamentation, Nielbock has a large installation of metal sculptures in the fenced yard behind his studio. Unfortunately, I arrived when the studio was not open. If anyone can offer more photos of Nielbock's magnificent work, please share them with SPACES.
My next visit resulted from the kind of serendipity that only close looking and a willingness to pull the car over can provide. While driving to a coffee shop to meet a friend, I noticed a rainbow row of assemblage sculptures standing in an empty lot adjacent to an architecturally interesting home. It didn't seem that anyone was home, so I snapped some photos and went on my way. During my visit to Heidelberg, I showed the photos to Tyree Guyton to find out if he knew anything about the work. "Oh, that's Matt!" he exclaimed. The artist behind this installation – Matt Corbin – had actually been one of Guyton's art instructors. Guyton told me to go back to the house, knock on the door, and tell Corbin that he had sent me. The next day, I did just that, and Corbin gave me an excellent tour of his sculptural installation called Spectra-Gate created with found objects harvested from his neighborhood.
The final art environment I visited on my trip is both within and outside of Detroit. Hamtramck Disneyland by Dmytro Szylak (1923–2015) is a kinetic explosion of color installed in the backyard of a home that abuts an otherwise quite average alleyway. Hamtramck is a small, independent municipality that is almost entirely surrounded by the city of Detroit. It is the home of a vibrant immigrant community that was first primarily established by Polish immigrants (like Szylak) in the early 19th century. (One of the primary streets running through the city is proudly lined with flags representing the home countries of Hamtramck's current residents.) After Szylak passed away in 2015, a local organization called Hatch Art stepped in to purchase the site and ensure its survival. While the installation currently appears to be in good condition, much of the work has been removed for conservation.
We're sure there's much more to discover in Detroit, and we plan to do just that. If you know of environments in the area that we should search out and add to SPACES, please get in touch.
Thank you to the artists and administrators who were so generous with their work and their time!
Annalise Flynn is principal of Vernacular Art Services, LLC and leads curatorial projects at SPACES Archives. She can be reached at info@spacesrarchives.org. All photos in this post were taken by her in 2021.