Visit to the Casa de las Ranas [The House of Frogs] and the Chapel of Jimmy Ray Gallery
Jo Farb Hernández
During a quick spring break visit to Mexico, I was delighted, as always, by the wealth of unselfconscious and colorful aesthetic expressions I found virtually every time I turned my head. From the front perimeter wall of an auto parts warehouse in Mexico City -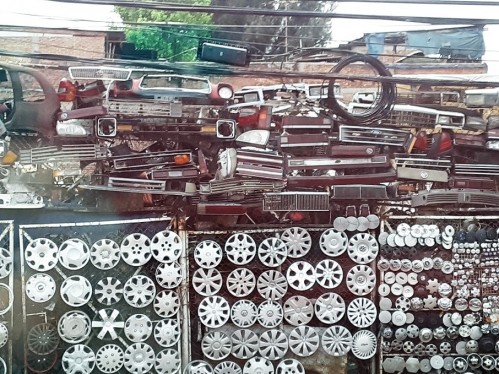 to an itinerant seller of brooms, mops, and hammocks in San Miguel de Allende -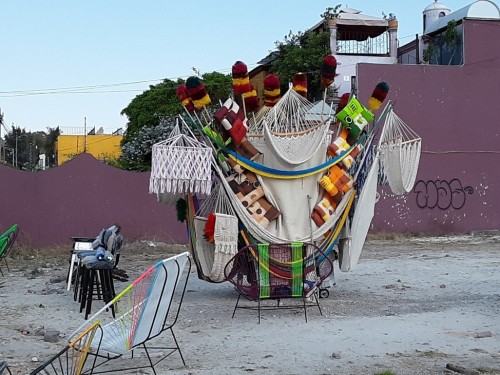 there is color and texture and movement everywhere.
But the main attraction was the opportunity to visit Anado McLauchlin's Casa de las Ranas [The Frog House] / Chapel of Jimmy Ray Gallery in the little village of La Cieneguita. McLauchlin and his husband Richard Schultz visited this relatively remote 2.5-acre site in 2001, and purchased it within two weeks – although their original idea had been to rent in the area for a year to see if they might like to live in Mexico on a long-term basis. Renovating the dilapidated two-story home that had been built in the form of a Swiss chalet, McLauchlin began what has become an ongoing work-in-progress, as little by little he is transforming the entire property into a complex and intriguing art environment.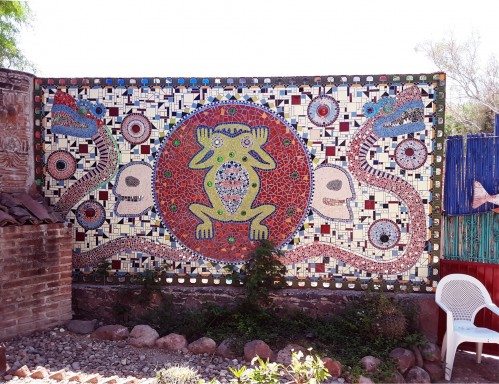 Reflecting his decades of travels around the world, his aesthetic expressions riff off of motifs from native and tribal arts from around the world in a unique and idiosyncratic way: the Hindu deity Ganesh, for example, has taken on decidedly Mexican characteristics. Combining local Talavera tile with pieces of glass, mirrors, shells, found objects, paper cut-outs, local festival props, and crafts, all set against deeply saturated painted backgrounds, the site features several buildings as well as whimsical freestanding altars, mosaic stairways, a completely ornamented outhouse with compostable toilet, gardens, and a 150-meter (almost 500 feet) long wall sheathed in a variety of improvised images from McLauchlin's dreams and visual encounters.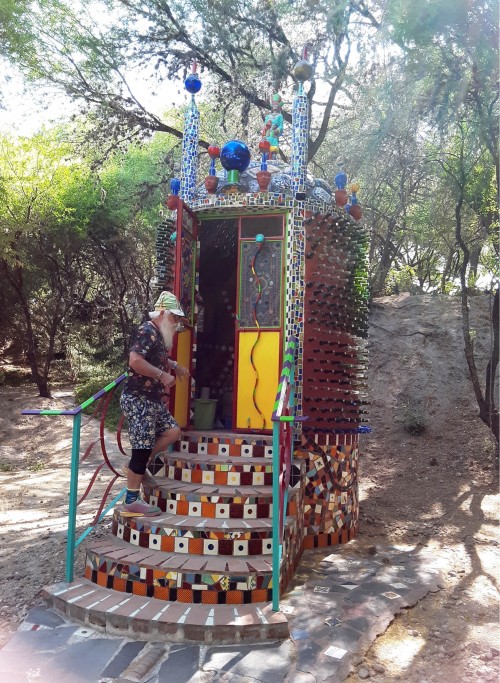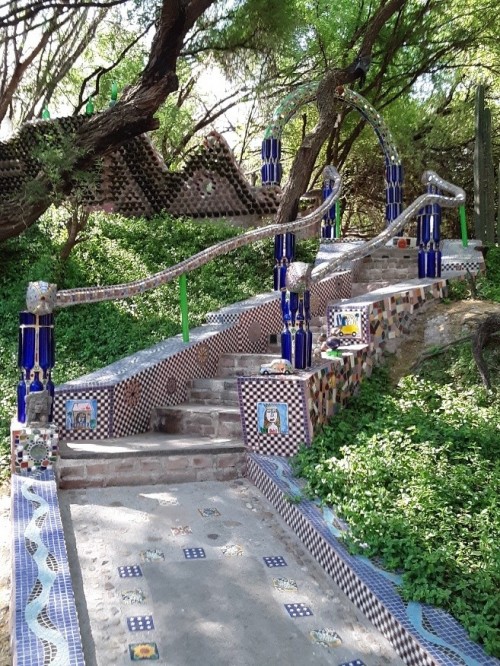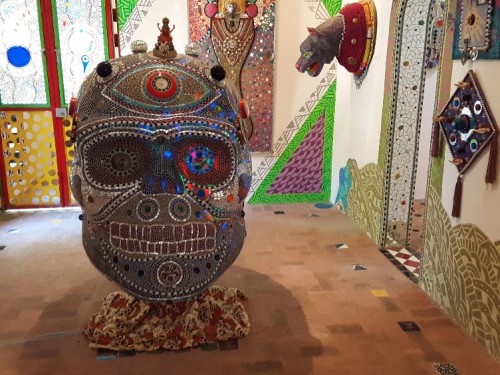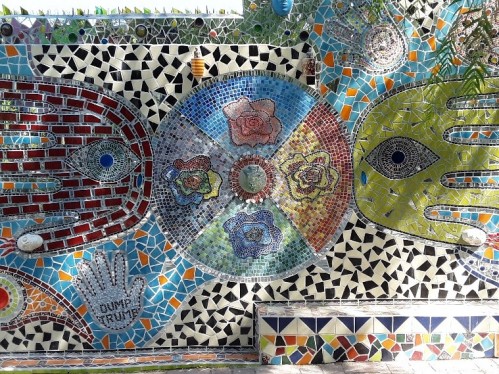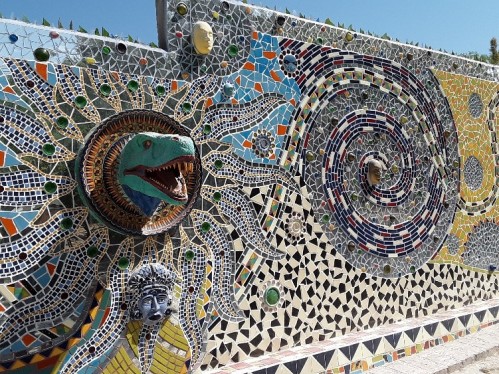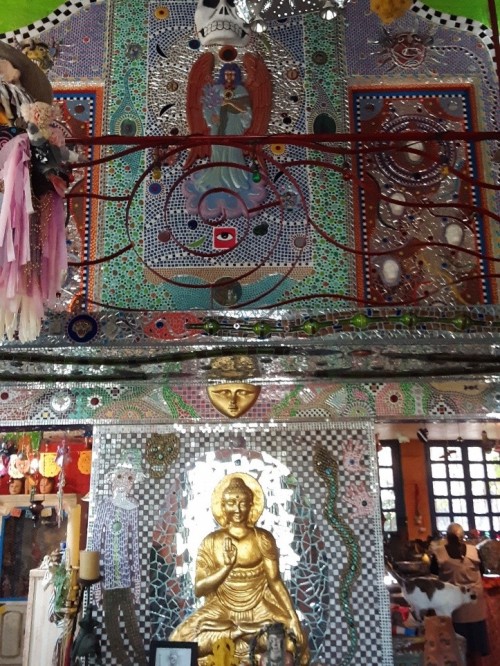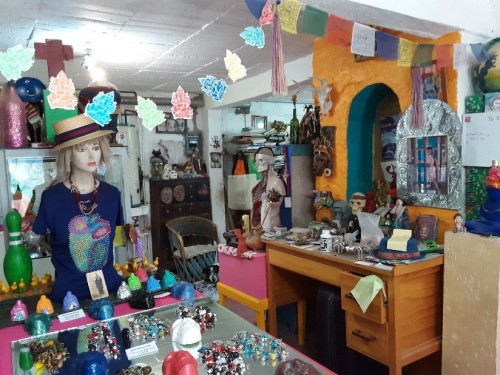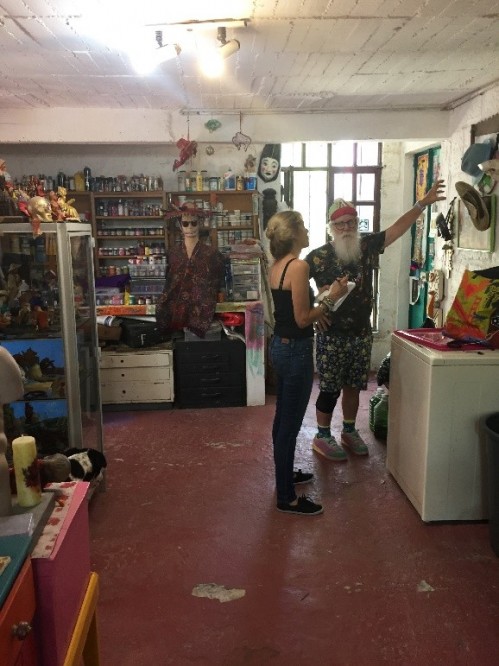 The entire complex is a thoughtful and compelling site that warrants a visit, and with a requested donation McLauchlin offers public tours three times weekly. McLauchlin and Schultz are warm and welcoming, and I encourage you all to visit on your next trip across our southern border!
Read Anado McLauchlin's story and see more images here!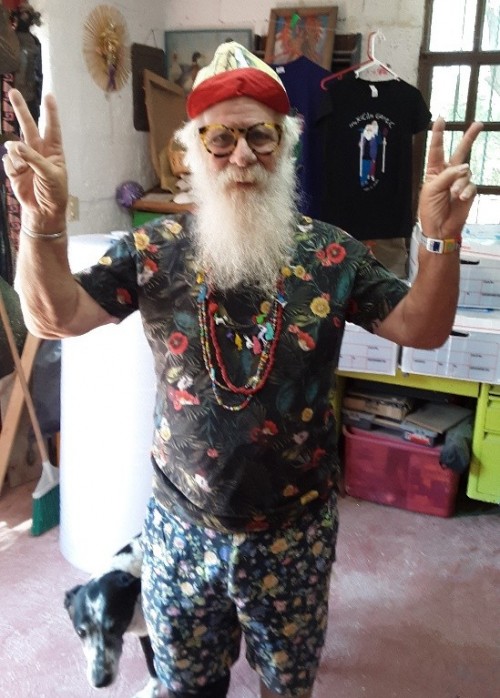 Unless otherwise indicated all photos © Jo Farb Hernández