Exploring the Tree Cave of Ra Paulette with Jordan Quant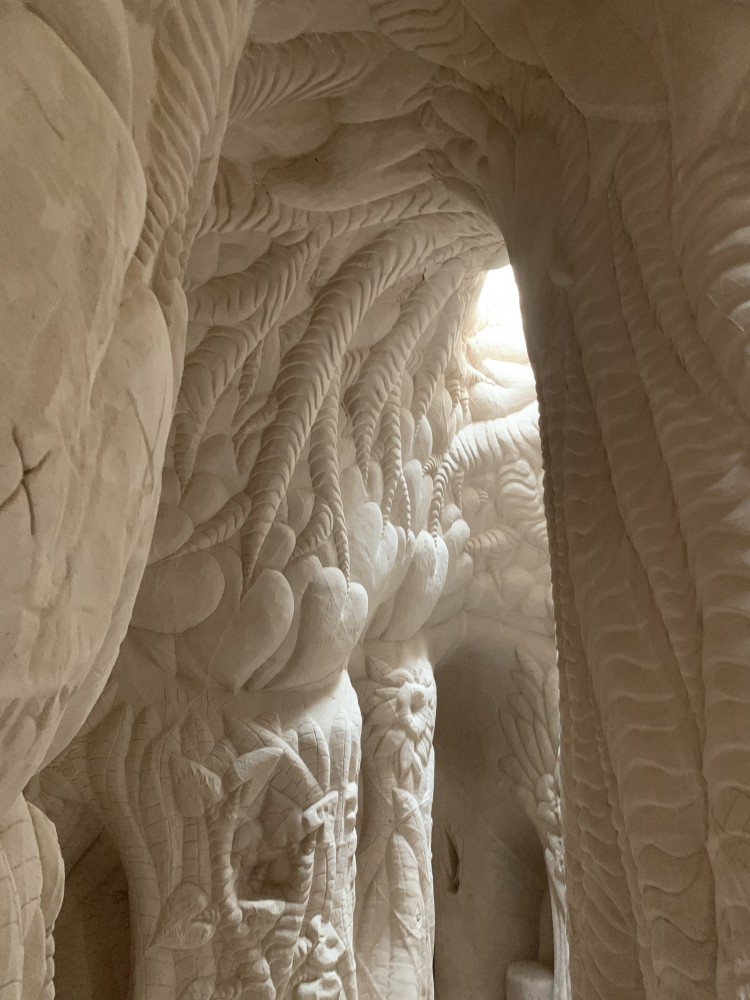 SPACES is excited to share this guest post from Jordan Quant – a recent graduate from the School of the Art Institute of Chicago and recipient of the Roads Scholarship for Research and Travel.
Jordan Quant is an artist from Alpharetta, Georgia, and Chicago, Illinois, and recent graduate of the School of the Art Institute of Chicago. Her work is grounded in garment design, with emphasis on fabric treatments and printmaking processes. Jordan expands garment making techniques to create soft sculptures that straddle definitions of functional furniture and wearable objects. In addition to sculpture making, she is invested in studying and creating choreographic notation, dancing, and learning about her family through cooking.
This past week* I made a trip to Albuquerque, New Mexico, to visit my roommate Isabella in her home state. It was my first time in the desert; the dryness and elevation immediately came for me. I hadn't come to New Mexico with the intention to visit any of the sites I included in my Roads Scholarship plan, figuring they were probably inaccessible due to COVID. However, a weekend trip to Taos quickly set Isabella and I on a journey to Ra Paulette's Tree Cave. Isabella's family, minus Isabella, had visited the Cave in 2014, before the land was put on the market. Her aunt Sarah provided us with directions from her memory, but she wasn't sure if any indication of the caves still existed.
After a drive through the desert to what we think is the correct location, we get out and quickly climb onto the path – no one else in sight. Soon we are able to see a few skylights and a door carved out of the rock. We really weren't expecting the door – it was a funny little hermitage type door, with an unlocked latch on the outside. Before venturing inside, we walk up to the lowest skylight, which is mostly broken, and try to peer in. Isabella and I trade nervous glances, wondering if anyone is inside. She shouts "HELLO?" and I look through the front door's tiny, circular window, finally able to see a bit of the cave's interior. Shaking, I open the door, not knowing what else exists beyond the corridor. It's cold and completely empty. My heavy breathing becomes instantly audible, every whisper of "wow" echoing through the cave. Incredible!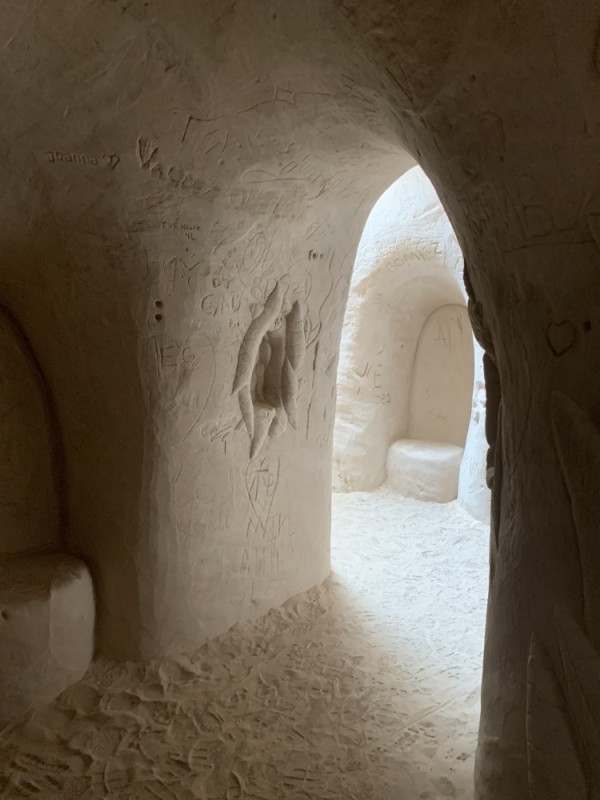 In utter disbelief, Isabella and I slowly take laps around the cave. The tree trunk twists out from the center, with the branches creating crevices to sit and pathways to the other caves. Large heart-shaped leaves sprawl across the walls, opening into other floral embellishments. The ribbed texture of the tree is my favorite part. It is so quiet and peaceful, sunlight streaming from the skylights – so strange to be able to experience such a place with absolutely no one around. We had a sense of urgency, knowing we probably aren't supposed to be there. It felt entirely like we were in on a beautiful secret.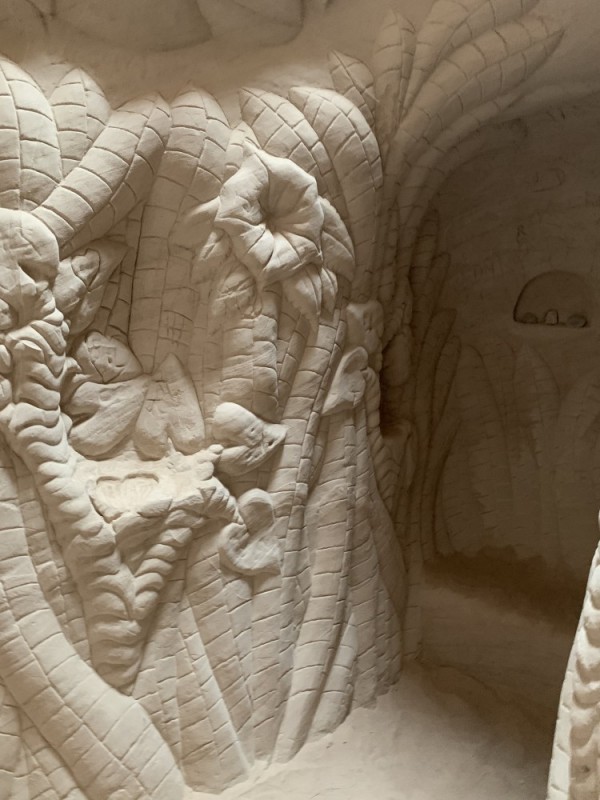 A big thank you to the Roads Scholarship for Research and Travel from the Better Homes & Gardens: Vernacular Art Environments class taught by Lisa Stone at the School of the Art Institute of Chicago for making this trip possible!
*Jordan's trip was toward the end of August 2020.