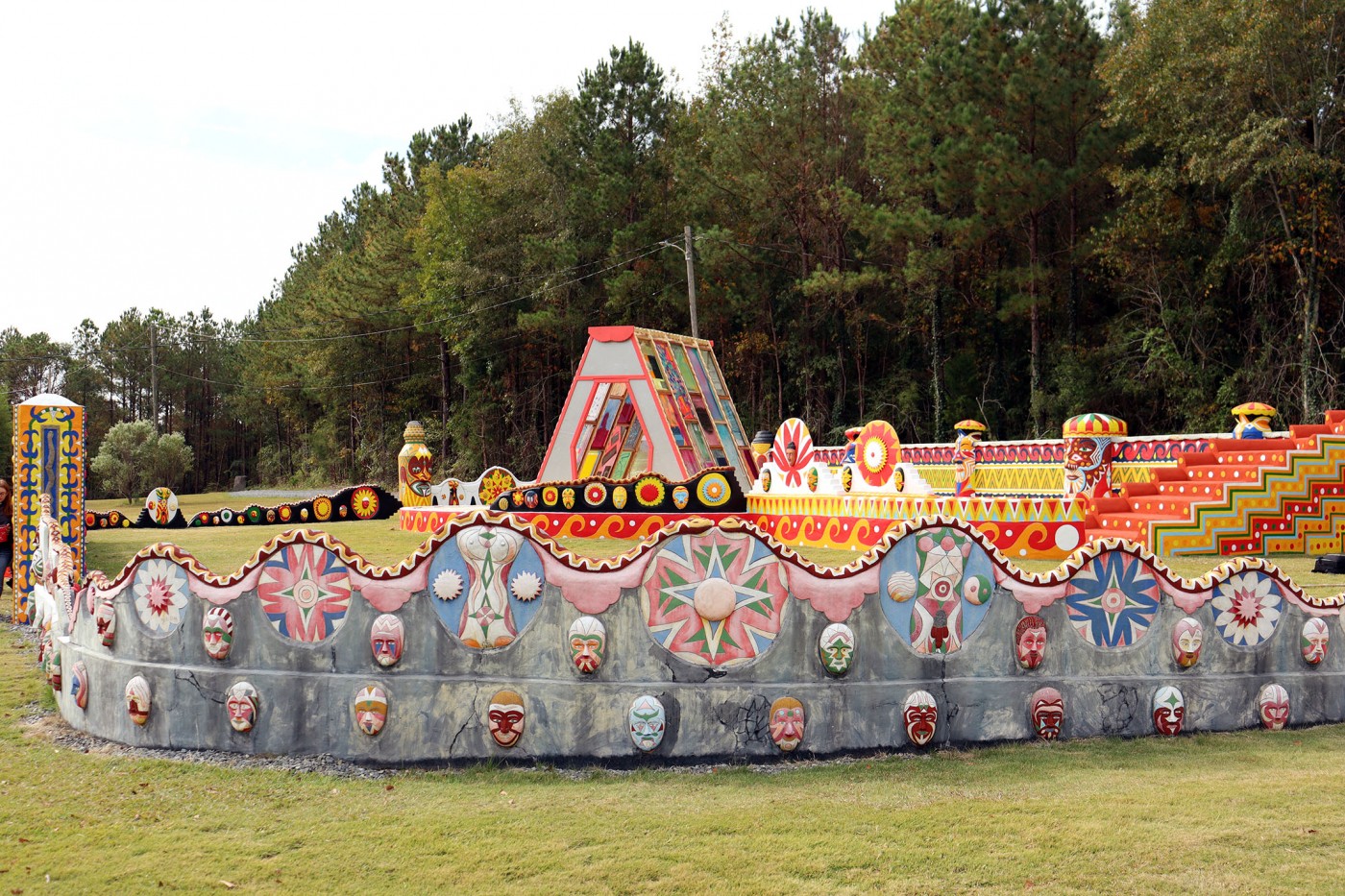 We were invited down to Columbus State University as artist in residents to create a project using Eddie Owens Martin's Pasaquan as a point of departure. Our idea was to create a portal connecting our world in Wisconsin with St. EOM's site. Being inspired by both Eddie's artwork and his way of building narratives, we developed a story of interconnected things, centering back to Eddie, which we used as our decision making tool in the creation of the portal. Eddie telling Jimmy and Rosalyn Carter's fortunes, NASA's Voyager Space Program, solar energy portals, St. EOM's cosmic mirrors, the Buena Vista homemade space shuttle, and many other local tales and lore came to be our interconnected narrative web.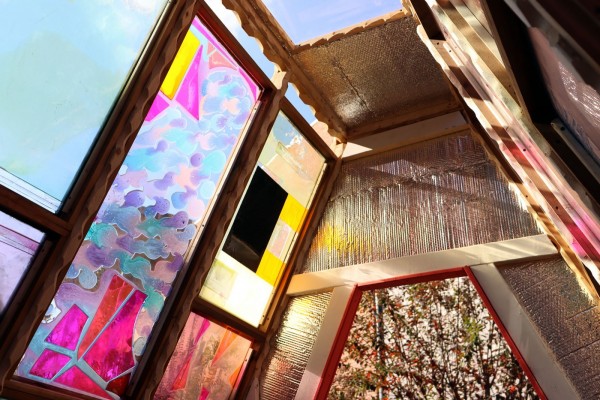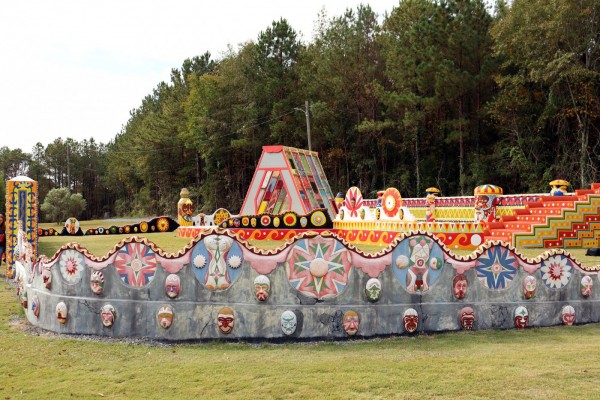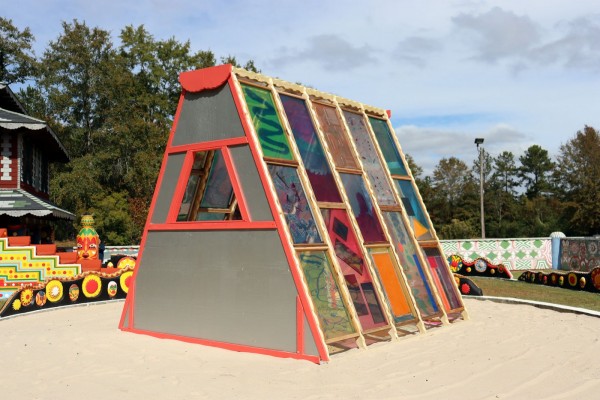 To experience Pasaquan is to be completely enveloped. You are covered, swarmed, swallowed, by St. EOM's irrepressible vision. We wanted to capture such a feeling. We wanted to use that sensibility as a pathway for making our own portal connecting our lives in Wisconsin with this incredible site one thousand miles away in Georgia. Artist built environments have always been centrally informative to our practice and Pasaquan stands out amongst the many we hold close. It's the breadth of making, the totality of a life lived through commitment to a creative vision, where every nook and cranny of the artist's life is a part of their creative production, which pulls us towards Eddie.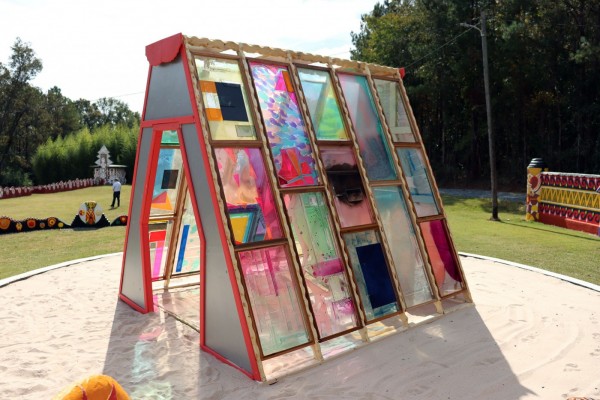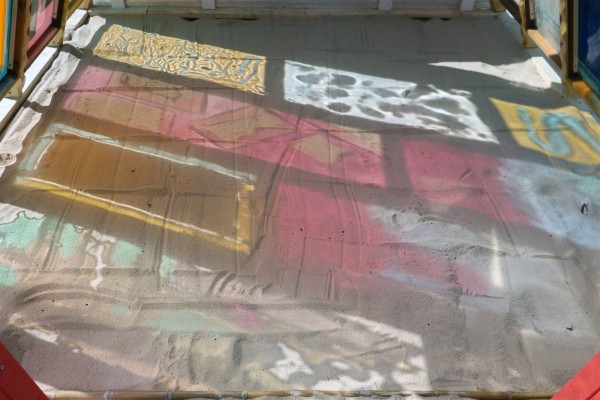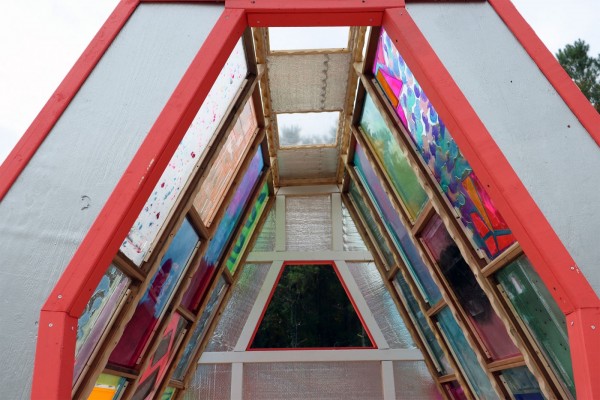 Our residency took place over two trips to Columbus this year. The first was in the spring for an initial moment of research. We spent time at Pasaquan, meanderingly drove all over the region, had peanut ice cream at the nearby Jimmy Carter National Historic Site, dove into the Pasaquan archives at the CSU Library Archives, had mind melting conversations with astrophysicists and NASA historians about portals and the Voyager Program, and most importantly had lots of coffee and lots of beers with folks who spent lots of time with Eddie. We headed home inspired and ready to start building the portal. We came back in the fall for construction and fabrication in addition to working with students in CSU's Department of Art. Over three weeks we assembled and tweaked, un-did and re-did and re-imagined our portal in real time in the studio, while being surrounded by conversations about St. EOM with those who knew and know him best. We were able to bring the portal structure out to Pasaquan where it was temporarily installed in the sand pit. After a brief stint on site in Buena Vista, we brought the project back to Columbus where it was installed on the downtown campus in the Department of Art. Along with the portal structure, a multichannel video sculpture (inspired by our NASA Voyager Program conversations!) was made using hi-res microscopic video scans we took of Eddie's work from the collection of the John Michael Kohler Art Center. The videos are incorporated into a kinetic sculpture that sits inside, adjacent to the portal structure, where St. EOM can pass from one space to the next, and invite viewer to do the same.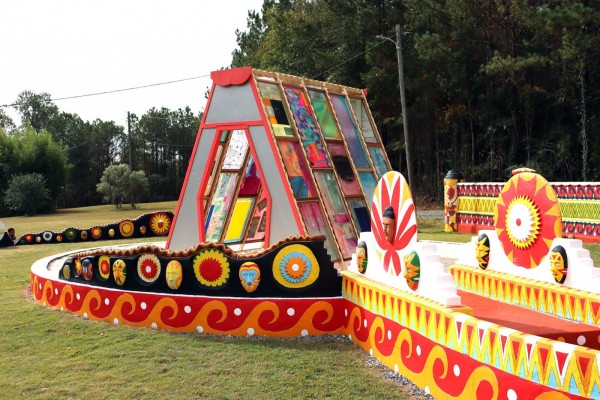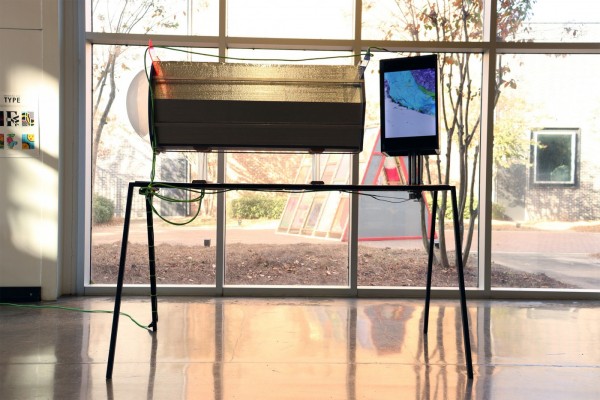 This project was made possible with the generous support of the Columbus State University Department of Art. We want to profoundly thank professors Hannah Israel and Michael McFalls for their care, support, and fellowship in hosting and supporting our time in Columbus. In addition, we owe the deepest gratitude to Charles Fowler, Cathy and Fred Fussell, and Jo Bjorkman for sharing their time, expertise, and wisdom with us.
Sebura & Gartelmann is the collaborative team of Jonas Sebura (OH) and Alex Gartelmann (PA). The pair has been working together since 2010. Both received their MFAs from the School of the Art Institute of Chicago. Sebura received his BFA from Alfred University in New York and Gartelmann from The University of the Arts, Philadelphia.
To learn more about
Jonas
and
Alex
's practice, visit their websites. To hear more about Alex's work at the Mary Nohl House in Fox Point, Wisconsin, see this 2020 SPACES
blog post
.