Interview with Narrow Larry Harris: SPACES Contributor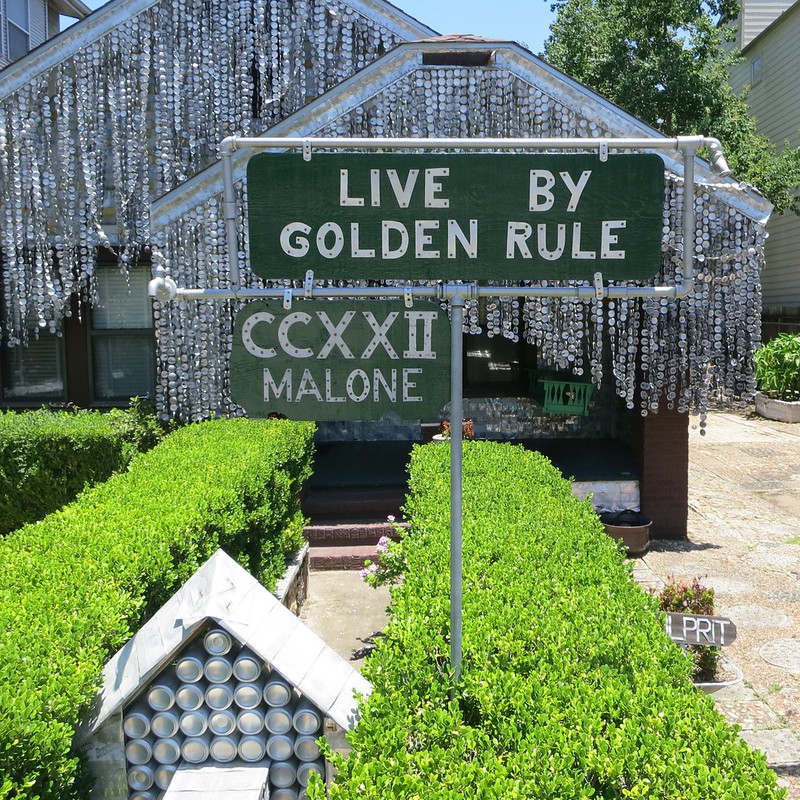 Larry Harris
—

perhaps better known as Narrow Larry of Narrow Larry's World of the Outstanding

—

has been a champion of art environments since his discovery of his hometown Houston's The Orange Show in the late 1980s. The website (described as "a very narrow guide to art environments, modern architecture, and travel) that has come out of his many adventures, is well-known and highly regarded by folks traversing the United States seeking the magic of artist-built environments. His actively-maintained website contains documentation of hundreds of sites

—

both extant and non-extant

—

and his growing Flickr has more than 12,000 photos featuring architectural wonders and vernacular art from coast to coast.

Larry is an incredibly generous friend and contributor to the SPACES Archives, and we are thrilled to share what inspires him and his valuable work spreading the word about art environments.
How did you discover the world of art environments?
Ever since I was a kid I was interested in architecture, and when I was about 12 years old, I received a gift from my older brother — a book titled Shelter that included a short article on the Watts Towers. (Shelter was an outgrowth of the Whole Earth Catalog, a classic publication of the 1970s counterculture era.) I remember being intrigued by the Towers, but still being a kid, didn't really think much more about them. It wasn't until a few years after I graduated from architecture school that I first experienced an art environment.
One day in 1988 I received a call from two of my classmates / best friends from the University of Houston, Joe and Annette Montante. They told me about a recent visit to a place here in Houston named The Orange Show. They were going to make a return visit and invited me along, saying I would really like the place. I had actually seen a local TV story on The Orange Show, but had dismissed it — the thing sounded hokey and corny, like a place for kids. With nothing else better to do, I somewhat reluctantly joined them to check it out.
The moment I stepped inside the entry gate of The Orange Show, I was mesmerized. I felt instantly connected. It was a moment that changed my life.
What about art environments in general or the first site you visited made you want to learn more?

During that first visit to The Orange Show, I picked up a brochure from the caretakers of the site, then named the Orange Show Foundation. From the brochure I learned that there were other "environments" out there, not only in the U.S., but around the world. The OS Foundation's founding director, Susanne Demchak Theis, had initiated a public program of informal lectures and "home movies" on artists and environments, and I attended as many of these events as I could.
Within a short time I also signed up for the newsletters of SPACES and the Kansas Grassroots Art Association, both of which were an incredible resource in those pre-internet days.
As soon as I could afford it — on an intern architect's salary — I began to take short "pilgrimage trips." The first was a 1991 long weekend up to Oklahoma, and it followed a template for almost all of my future trips — a pairing of my two obsessions, artist-built environments and modern architecture. (The same day I visited Ed Galloway's Totem Pole Park, I also toured works by Frank Lloyd Wright and Bruce Goff.)
Can you tell us a little bit about the art environment / architecture tours you used to lead?

Within a year of my first visit to The Orange Show, I began to volunteer for the Orange Show Foundation, initially joining their library committee, and a few years later, around 1992, I was invited to join their Eyeopener Tour committee. The Eyeopener Tour program was initiated in the late 1980s, offering Sunday afternoon bus tours to the general public, visiting other environments and artists in Houston. Those early tours were only held a few times a year but were very popular with the public. Soon they evolved, with various themed tours such as interesting places of worship, cemeteries, or tours that focused on a specific area of Houston. I was one of about a dozen very devoted volunteer tour committee members, all putting in quite a number of hours in planning and leading the tours.
During those years of local and occasional multi-day regional tours (including Dallas & San Antonio), we were constantly asked by the public about the possibility of a longer out-of-Texas Eyeopener Tour. The first was a very successful 1995 trip to Alabama and Georgia, followed by a 1997 Baltimore tour for an exhibit opening at the American Visionary Art Museum.
In 2001 I volunteered to plan and lead my first out-of-town tour, a five-day trip to Chicago and Wisconsin. From the road trips I took on my own, I knew that I had to include works outside of the self-taught art world. If you're in Wisconsin to experience the Forevertron and Dickeyville Grotto, you can't not also experience the architecture of Frank Lloyd Wright and Louis Sullivan. (Of course that pairing was already perfected by Lisa Stone and Jim Zanzi on their Upper Midwest tours with students from the School of the Art Institute of Chicago.)
Over an eleven year period, I went on to lead nine other out-of-town tours, ranging from a western pilgrimage to Salvation Mountain to an eastern pilgrimage to Fallingwater. Beyond the incredible artists and sites we visited, it was the camaraderie of all the tour-goers that made me want to keep doing the trips. There was a ton of laughter (and alcohol) on those buses! I think what I was most happy with was the fact that the tour participants were made up of the general public, as opposed to a bus packed only with overly-obsessed art collectors (or geeky architects like myself!).
Do you have a favorite site or, perhaps, type of site?
Way too many favorite sites–impossible to pick one. (Although if I were to share a desert island with just two environments, it would be The Orange Show and the Watts Towers.)
What are you up to these days? In a COVID-world, it's hard to make plans for future travels, but what sites would you like to see next and/or revisit?
Spending quality time with my girlfriend Kat and our two kitties, Oxford and Maggie. (And praying for archi-clients!) I have been thinking a lot about future travels, among them...
NEED-TO-FINALLY-VISIT:
NEED-TO-REVISIT:
Born in 1962, Larry Harris is an architect in Houston, Texas. To stay updated on Harris's travels, you can visit www.narrowlarry.com and contact him at narrowlarry@aol.com.


INTERVIEW WITH LARRY HARRIS BY ANNALISE FLYNN. CONDUCTED MAY 14, 2020.